CreativeTake Medical Launches New Cosmetic Surgery Website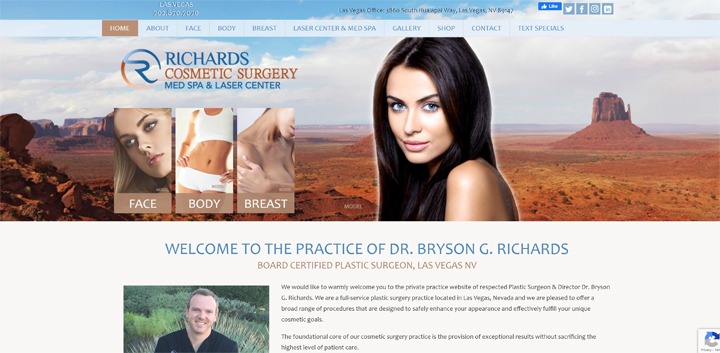 The premier web design, content development, SEO and online marketing firm for doctors, CreativeTakeMedical.com has launched a new website for one of its plastic surgeon clients, Dr. Bryson Richards. The website called RichardsCosmeticSurgery.com serves as a comprehensive online resource targeted at the local patients residing in and around Las Vegas, NV and Lake Havasu City, AZ, where Dr. Richards' offices are located.
Dr. Richards wished to create a comprehensive website that would include detailed information about various plastic surgery procedures for the breast, body and face, apart from some key non-surgical aesthetic procedures that he provides through his practice. He decided to work with CreativeTake Medical, taking into account their extensive experience in developing highly effective websites for plastic surgeons across the United States.
CreativeTake Overview
CT Medical provides a wide range of Internet marketing and SEO services to physicians, which include website design, content development, search engine optimization (SEO), public relations, consulting services, social media marketing, and branding. The distinguishing feature of CreativeTakeMedical.com is that its team of creative professionals has first-hand experience in running a medical practice.
It provides the team with the necessary knowledge, insights and competence to provide appropriate and effective marketing services to the medical industry. CreativeTake builds customized websites backed by innovative SEO and marketing strategies to help its medical clients meet or exceed their targets.
Key Features of Dr. Richards' Site
RichardsCosmeticSurgery.com has an attractive and user-friendly website design that allows for smooth and seamless site navigation. New visitors to the site will be immediately attracted by the home page layout, visuals, and content. Through the homepage, each reader can easily identify the specific area of their interest, and directly access that area of the site from the homepage. Returning back to the homepage is also equally easy from any other page on the website.
Section on Dr. Richards
From its past experience, CreativeTake Medical knows that one of the most important sections of a doctor's website is the section that provides a detailed bio or profile of the doctor. New patients are particularly keen to learn as much as possible about the doctor's background before they may decide to visit him or her for a consultation.
Keeping this fact in mind, CreativeTake built a detailed page that provides relevant information about the academic qualifications, training, experience, and accomplishments of Dr. Richards in the field of plastic surgery. CreativeTake's content professionals also included information about the social and community pursuits of Dr. Richards and provided a brief insight into his family life.
Procedure Sections
Dr. Richards provides a wide range of surgical procedures for the face, body and breast, apart from some of the latest non-surgical treatments. The challenge for CT Medical was to ensure that maximum possible relevant information is included in the procedure sections in such a way that the reader experiences no difficulty in finding information about the specific procedure that they may be looking for. Procedures for the face, body, breast, and non-surgical procedures are provided under separate sections. All of the procedures under various sections are described in detail on separate web pages.
About CreativeTake Medical
CreativeTake Medical is a full-service Website Design and Digital Internet Marketing company with decades of combined experience in the medical and e-marketing industries.
We specialize in: