Creative Take Launches New Website InsightBHN.com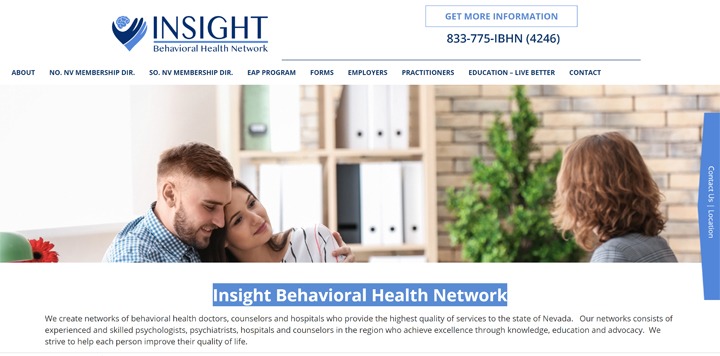 For the past two decades, CreativeTake Medical has consistently pursued excellence in digital marketing for medical professionals and organizations across the United States and has assisted hundreds of practitioners in achieving their business objectives.
CT Medical has achieved perfection in the art of developing patient-friendly sites and content for medical professionals, while simultaneously focusing on SEO to broaden the targeted local reach of the website to prospective patients in the local area.
New Website for Insight Behavioral Health Network
CreativeTake Medical has recently launched a new website called insightbhn.com for Insight Behavioral Health Network. Insightbhn.com is a strong example of an innovative and distinguished online resource for Cognitive Behavioral counseling.
The organization helps companies and individuals develop the unique protocols necessary to administer this program in an effective manner.
IBHN also licenses medical groups and doctors to provide the Insight program. The company itself is not a licensed medical care provider and does not provide health care services to patients directly.
"About" Section
Insightbhn.com includes a comprehensive "About" section that provides relevant and current information about IBHN's team.
This section offers information about the company's CEO, Trey Ligon, who brings over 25 years of medical delivery innovation experience to IBHN, having created many leading healthcare companies.
This section highlights Trey's experience, accomplishments, and credentials. It further provides information on each member of IBHN's management team.
CTM understands that new visitors to a website are typically interested in learning more about the people involved in an organization. Therefore, CreativeTake Medical's website design and content development team has spent significant effort in developing this section.
"Counseling" Section
Insightbhn.com also features a "Counseling" section. This section offers visitors in-depth information on healthcare counselors and the role of addiction counselors.
The section also talks about the various types of therapies designed to complement traditional addiction counseling sessions. New visitors to the website can review this section to receive comprehensive information on addiction counseling and the company's unique outlook on long-term, open-ended treatments.
"Employers" and "Practitioner" Sections
Insightbhn.com features "Employers" and "Practitioner" sections. Employers seeking to make the workplace a healthier place for their employees can directly review this section. It offers comprehensive information to employers about why they should consider developing a culture of well-being in their company.
The site also has a "Practitioner" section, which is meant for medical care professionals and how referring their patients to IBHN addiction treatment programs and services can enable their patients to receive advanced, individualized care.
These separate sections meant for employers and practitioners helps visitors easily reach their desired sections.
Other Sections
The site features a "Contact" section where visitors can find relevant information about IBHN, and fill out a brief online form is they require further details on the company's programs.
Insightbhn.com also has a "News" section that offers current information on the events and happenings at IBHN.
The goal of CreativeTake Medical web designers while building this site was to set up a comprehensive online information resource for online visitors, while at the same time generate awareness about IBHN treatment programs among the target audiences.
About CreativeTake Medical Palm Desert, California
CreativeTake Medical is a full-service Website Design and Digital Internet Marketing company with decades of combined experience in the medical and e-marketing industries.
We specialize in:
Serving clients nationwide: Palm Springs, Los Angeles, San Diego, San Francisco, California Chicago, Illinois, New York, San Jose, Dallas, Houston, Austin, Texas Miami, Orlando, Tampa, Florida, New Orleans, LA, Atlanta, GA, Salt Lake City, UT, Seattle, WA, Denver, CO, Richmond, VA, Washington DC, Columbus, OH and more.