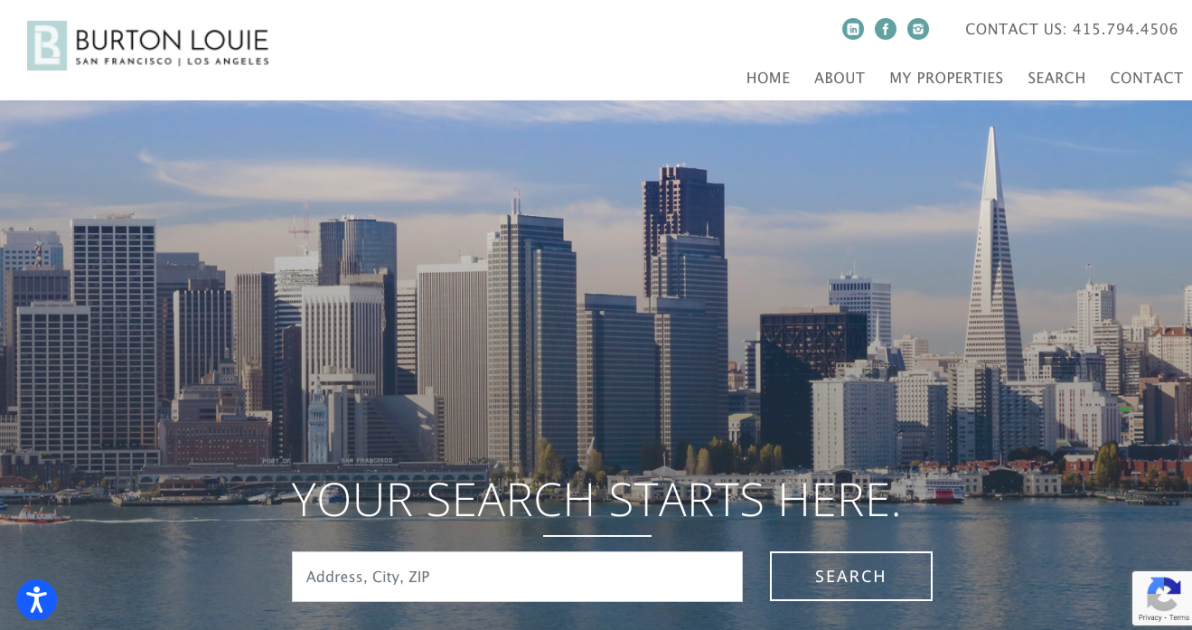 CreativeTake Web digital marketing firm recently launched the website design for Burton Louie, a realtor in Los Angeles and San Francisco. The minimalist yet powerful design is a reminder of other original works completed by CreativeTake. Real estate agents don't want a flashy or loud website. They want the attention of site visitors to be solely on the property listings. However, they also want the target audience to believe that they will find their dream property listing on the site.
These expectations were delivered by creating a site that boasts of luxury with sophistication. The subtle hues and shades used throughout the site involve a psychological component that instills confidence in the minds of potential property owners that they will find what they are looking for.
Subtle Can Speak Volumes
You don't always need a bang to get your point across. The focus of the website is not selling Burton Louie as a realtor. The website emphasizes only on the various properties on offer without any unnecessary oomph. There are multiple listings on the home page to hold visitor attention and to help them find what they are looking for in record time.
CreativeTake Digital Marketing is different from other website designing and development firms. They have a devoted team of designers that specifically work on one project at a time. This allows them to devote complete attention to the task on hand. After weeks of brainstorming and going back to the board, they came up with the current Burton Louie website.
Quick Loading Website
There are several aspects to a website dedicated solely to property listings. Visitors want images and content to load quickly. This can be tricky for any novice website designer. CreativeTake Web employed state-of-the-art techniques to create a website that doesn't just launch quickly, but loads its property portfolio in record time as well.
There is a dedicated search button that allows visitors to find listings based on price and other requirements. The site has a polished look that instills confidence in visitors. The challenge facing CreativeTake team was not just to help visitors find the right listings. But to ensure they find it in record time and are satisfied with the options.
Nobody has the time to scroll through dozens of options or wait for different property listings to load. The website design is a fine balance between aesthetics and functionality. The primary purpose of instilling confidence in the realtor's abilities is highlighted in every page of the site.
Promotes Confidence
CreativeTake invests time in understanding the client business and what they require or expect from the website. The team doesn't start creating until they have a strong understanding of what the client's target audience requires for conversion. In the case of Burton Louie website, it is all about viewing the property, showing an interest, and finally purchasing it.
The website instills confidence in the average target audience through its simple design and content. This is why the home page has a 'Meet Burton' section. This section provides complete information about how Burt became a realtor and what his interests are. This kind of information allows for building a rapport with the site visitor.
CreativeTake takes great pride in creating successful projects that achieves expectations every time with minimal fuss. This can be seen clearly in the case of Burton Louie website as well.
About CreativeTake Medical Palm Desert, California
CreativeTake Medical is a full-service Website Design and Digital Internet Marketing company with decades of combined experience in the medical and e-marketing industries.
We specialize in:
Serving clients nationwide: Palm Springs, Los Angeles, San Diego, San Francisco, California Chicago, Illinois, New York, San Jose, Dallas, Houston, Austin, Texas Miami, Orlando, Tampa, Florida, New Orleans, LA, Atlanta, GA, Salt Lake City, UT, Seattle, WA, Denver, CO, Richmond, VA, Washington DC, Columbus, OH and more.