CreativeTake Launches New Medical Spa Website MotykieMedSpa.com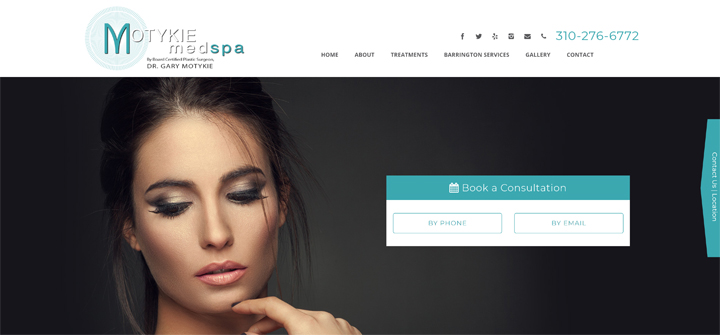 The leading website design and online marketing firm, CreativeTakeMedical.com has launched a new website for Motykie Medical Spa. The website called MotykieMedSpa.com provides extensive and insightful information on a wide range of skin care, body reshaping, anti-aging, and other cosmetic enhancement procedures.
The distinguishing feature of the medical spa is that it is run under the leadership of a board certified plastic surgeon, Dr. Gary Motykie. MotykieMedSpa.com highlights this strength for the benefit of the readers who are looking for suitable non-invasive and minimally invasive cosmetic treatment services.
About MotykieMedSpa.com
CreativeTake Medical has designed MotykieMedSpa.com as a user-friendly, easily navigable and highly informative resource on non-surgical treatments that are available at the medical spa. It has divided the website into key sections that provide in-depth information on various services and procedures, products available at the med spa, as well as a photo gallery and a detailed staff section.
The Staff section provides detailed information on the background, qualifications, experience and accomplishments of Dr. Gary Motykie as a plastic surgeon as well as the head of Motykie Medical Spa. New patients are usually keen to learn about the capabilities of the head of the medical spa, and like to familiarize themselves as far as possible before they actually choose to go for a consultation. MotykieMedSpa.com provides all the relevant information that a new patient may be looking for in this area.
An in-depth section on Services includes detailed description of the complete range of procedures and services provided at the med spa. CT Medical has ensured that the website readers can have a quick overview of all possible treatment options so that when they visit the medical spa for a consultation, they are already well-informed and can take an appropriate decision in consultation with the doctor and the professional staff at the facility. The website includes separate sections on Spa Therapy, Skin Rehab, Body Transformation, Laser Refinement, Injectable Rejuvenation, and Vein Eliminating Therapy.
Background of CreativeTake Medical
CT Medical is an innovative online marketing company engaged in providing website design, development and online marketing services exclusively to medical professionals and medical spas in the United States. The company has attained focused expertise in search engine optimization and Internet marketing for healthcare websites. Due to its exclusive focus, CreativeTake is in a strong position to achieve high page rankings for a broad range of localized keywords for its medical practice and medical spa clients.
CT Medical is a full service Internet Marketing company, providing a comprehensive range of services to healthcare practitioners and med spas under a single roof. Some of the key services provided by the company include the following:
Website Design and Development Services
Web Development
Search Engine Optimization (SEO)
Public Relations
Consulting Services
Social Media Marketing
Branding
CreativeTakeMedical.com banks on its more than 15 years of experience in the area of web design, content development, and search engine optimization. The firm is run by an expert team of innovative minds that combine creativity with sharp marketing prowess. Every website developed by CreativeTake Medical is highly patient-friendly, professionally designed, and stands out in terms of design and content.
About CreativeTake Medical
CreativeTake Medical is a full-service Website Design and Digital Internet Marketing company with decades of combined experience in the medical and e-marketing industries.
We specialize in: