CreativeTake Medical Launches New Website: beverlyhillsplasticsurgery.com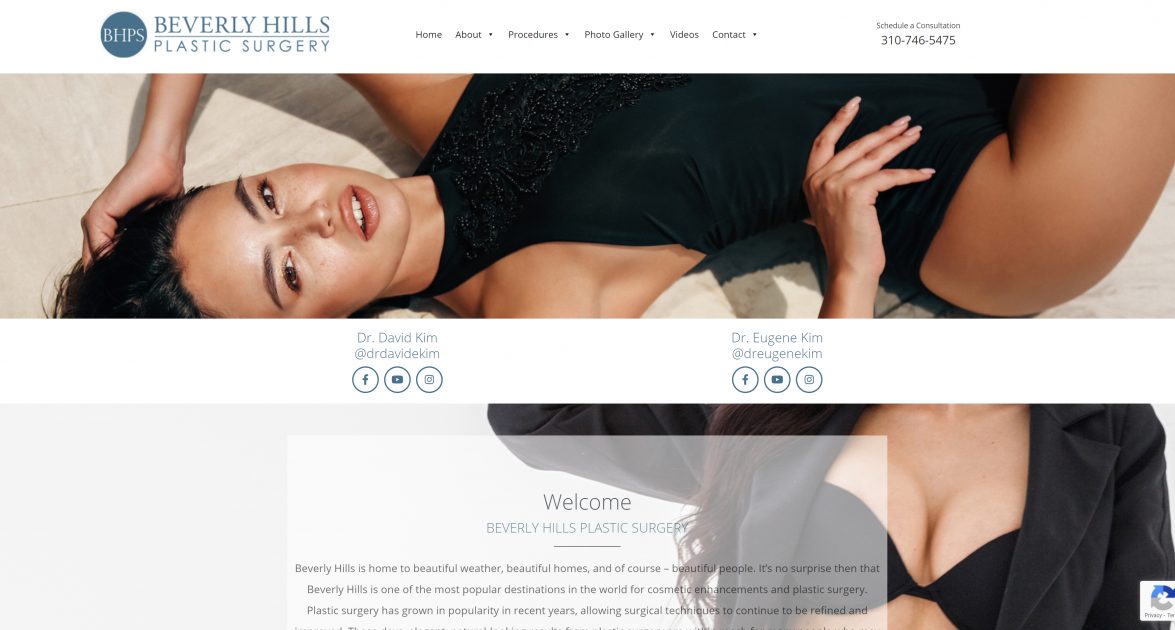 Plastic surgery is not geared towards perfection but beauty and appeal. This is the fundamental concept that CreativeTake Medical worked on while creating the immensely attractive website for Beverly Hills Plastic Surgery. CT Medical is a digital marketing and website development company with over 20 years in the industry.
They don't just create sites, but veritably embody the soul of a medical practice. This is done to help patients understand what they can expect during the initial consultation. The motive of a CT Medical website is not to help a practice climb the search result rankings, but to help patients connect better with the treatment provider.
This is highly important in services that are as personal as plastic surgery.
Eye-catching Graphics
People that visit a cosmetic surgery website are looking for a way to improve their present selves. There is nothing better than visual evidence to help them make a decision to visit the doctor or not. Creative Take Medical dedicated an entire section to before and after images.
They have made a Photo Gallery with an easy access drop down menu to help patients gain easier access to amazing transformations. One of the biggest challenges faced by CT Medical was to ensure that potential patients visiting the site could find what they were looking for quickly.
There are several different treatment options offered by Beverly Hills Plastic Surgery, which only added to the challenge. However, the team solved the problem beautifully with their advanced skill set and capabilities. They created a handy category on the left in the Photo Gallery section to help site visitors navigate.
Listing of Concise Information
Any website developer with years of experience in this business, such as CreativeTake Medical, would understand why plastic surgery websites are necessary to disseminate knowledge and educate patients. Majority of first-time patients are hesitant and full of questions about a procedure. It is on the content and images to encourage patients to schedule an initial consultation.
Beverlyhillsplasticsurgery.com does just that. It provides information and knowledge to patients in an easy, quick, clear and concise manner. Navigation buttons and drop-down menus have been used extensively to help patients learn about different procedures. The home page has a clickable banner showing the different segments of surgery that are on the menu, namely face, body, breast, and nose.
These segments provide comprehensive information about the various procedures that are there to choose from.
Digital Marketing at its Best
CT Medical is a full-service boutique website design and internet marketing company with over a decade of experience. They start their digital marketing campaign at the time of inception of the site. The site for Beverly Hills Plastic Surgery involves well organized, properly structured and useful words and images.
Nothing in the site is frivolous or without a purpose. The creative team invested hours to build something that is patient centric yet allows search bots to crawl through the site. CT Medical used their inherent skillset to enhance the value of written text with multimedia resources without compromising on load time or site quality. This is just one of the components that make this website a winner.
About CreativeTake Medical Palm Desert, California
CreativeTake Medical is a full-service Website Design and Digital Internet Marketing company with decades of combined experience in the medical and e-marketing industries.
We specialize in:
Serving clients nationwide: Palm Springs, Los Angeles, San Diego, San Francisco, California Chicago, Illinois, New York, San Jose, Dallas, Houston, Austin, Texas Miami, Orlando, Tampa, Florida, New Orleans, LA, Atlanta, GA, Salt Lake City, UT, Seattle, WA, Denver, CO, Richmond, VA, Washington DC, Columbus, OH and more.