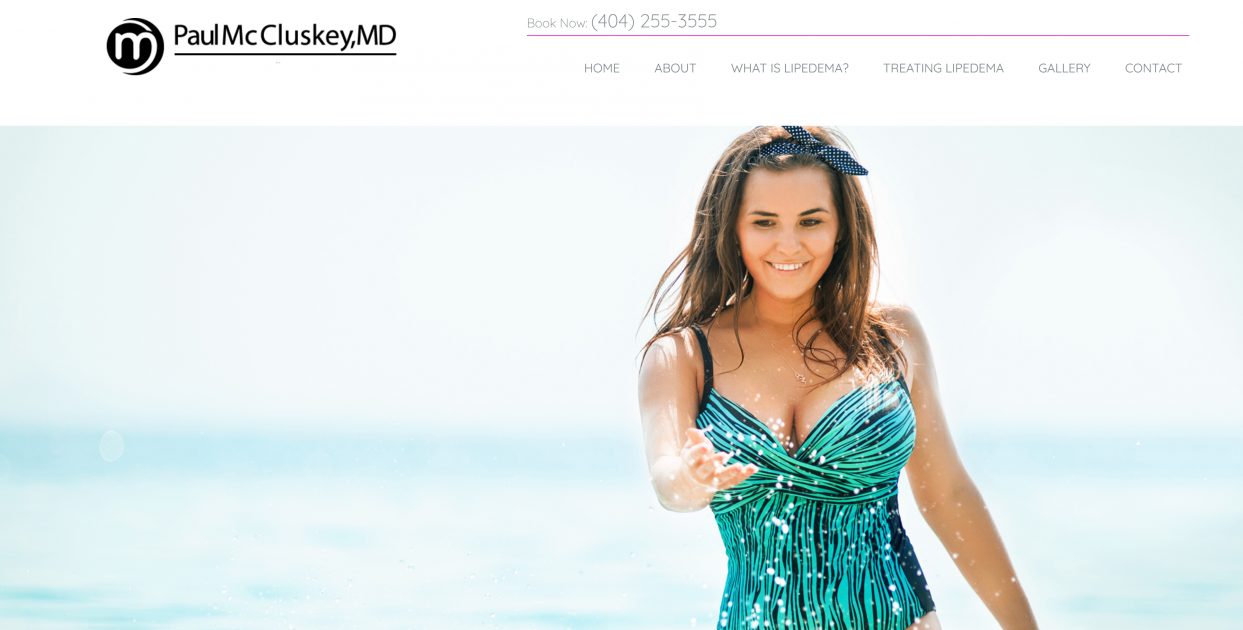 CreativeTake Medical is a pioneer in designing and developing patient-centric websites for plastic surgery practices. Our sole focus is on helping patients develop trust and confidence in the treatment provider. In today's age of digitization, the first impressions are usually the last ones – and they are made online.
CT Medical has yet again designed and developed a website that doesn't just inform potential patients, but also encourages them to take the first step toward a fitter and healthier body. The website design and digital marketing company created an appealing, informative, and concise site for Dr. Paul McCluskey, the founder and owner of the Plastic Surgery Institute of Atlanta.
Focus on Patient Education
Lipedema is a fat storage disorder and Dr. McCluskey helps patients shed the disproportionate accumulation of fat with the help of his surgical capabilities and skilled team. CreativeTake Medical understood the need for Dr. McCluskey to get the word out about the disorder and the ways it could be treated.
They focused on developing a site that informed patients instead of fascinating them. While there is a big element of exciting information in Lipedemaspecialist.com, the central focus is on imparting information and knowledge about the various techniques to perform lipedema surgery. A significant element in the website is the "Do I Have Lipedema" section.
This section is made for people that are confused about their disorder. Not everyone with stubborn fat pockets in their thighs and arms has lipedema. CT Medical designed this page to allow patients to know for themselves whether they had the disorder and what to do about it. The form also acts as a lead generation tool. Basically, patients fill in their name and contact information apart from answering a few relevant medical questions.
The staff at the Plastic Surgery Institute of Atlanta experienced increased conversions by following up with these patients.
Quick Loading Site with Short and Concise Content
Google has changed its algorithm multiple times since inception. However, it has always given preference to websites that were quick loading and informative in nature. Lipedemaspecialist.com checks on both those boxes and more. It has a quick load time of less than 3 seconds and is mobile optimized for viewing the site on handheld devices.
The mobile version has an additional FAQ section that offers quick answers to the most common problems afflicting patients with lipedema. It is not just enough to create an informative site. People are impatient with many search engine users hitting the back button and going to the next search result if a site doesn't load in under 4 seconds.
CT Medical understands this because of their 20 years of experience. We created a website that is quick to open and allows patients to understand everything about the procedure.
Informative "About Us" Section
The 'About Us' section is descriptive yet succinct. Visitors will gain insights about the professional team that leads the practice. The site doesn't yet include resources on a 'before and after' image gallery. However, it shows a brief message to schedule a consultation with the doctor to discuss the best possible treatment options for lipedema.
About CreativeTake Medical Palm Desert, California
CreativeTake Medical is a full-service Website Design and Digital Internet Marketing company with decades of combined experience in the medical and e-marketing industries.
We specialize in:
Serving clients nationwide: Palm Springs, Los Angeles, San Diego, San Francisco, California Chicago, Illinois, New York, San Jose, Dallas, Houston, Austin, Texas Miami, Orlando, Tampa, Florida, New Orleans, LA, Atlanta, GA, Salt Lake City, UT, Seattle, WA, Denver, CO, Richmond, VA, Washington DC, Columbus, OH and more.