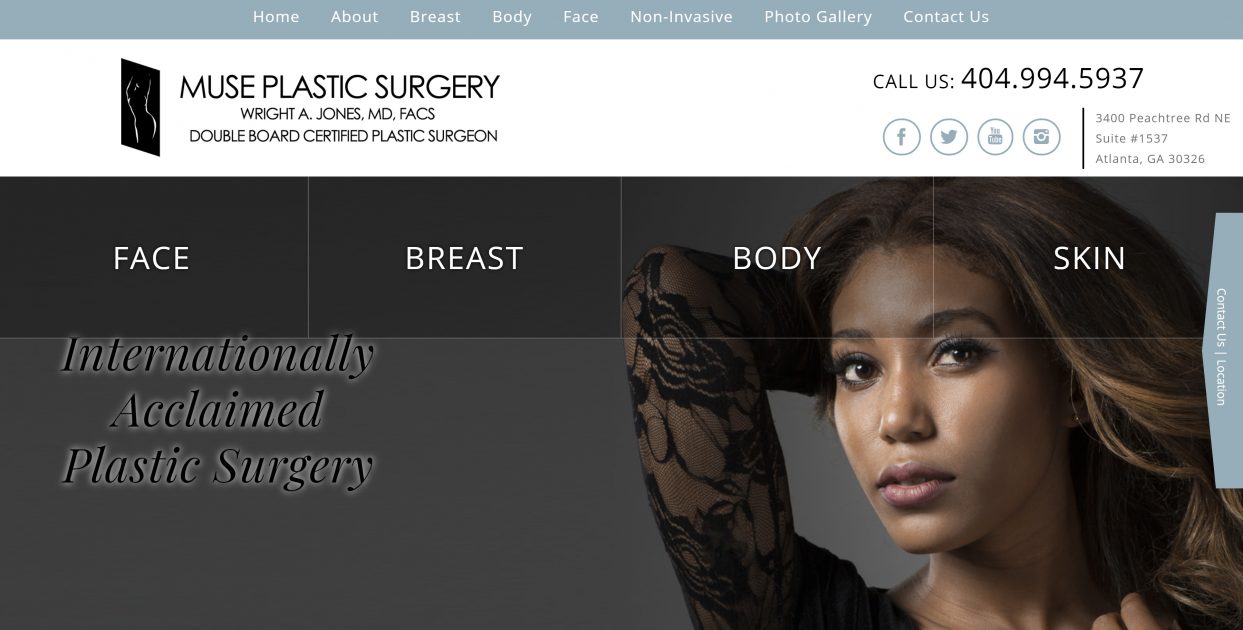 CreativeTakeMedical.com is a leading online marketing and SEO company for doctors in the US. With a team of highly motivated and experienced professionals, CreativeTake provides doctors with effective websites that are designed to achieve targeted traffic of local patients, and eventually boost the actual sales of the medical practice. CT Medical is a leader in the niche area of plastic surgery Internet marketing, and also provides its services for all other healthcare professionals in various areas of specialty.
CreativeTake has recently launched a new website for Wright Jones Plastic Surgery, having its offices in Atlanta and Stockbridge, GA. The practice is led by Dr. Wright Jones, an experienced plastic surgeon providing state of the art cosmetic and reconstructive procedures for ethnic and other patients.
Twin Strategy
Dr. Wright Jones gave a clear mandate to the team of online marketing and website development experts at CT Medical that he wanted to reach out to both African American as well as other patients in and around Atlanta and Stockbridge areas. Therefore, CreativeTake developed a twin pronged content and SEO strategy to make an effective impression on both ethnic and non-ethnic patients in the region.
It developed primary content that would address the plastic and cosmetic surgery queries of all kinds of patients. At the same time, it created specific content that focused on African American patients who constitute a significant part of Dr. Jones' local market. This content included in-depth information related to various ethnic plastic surgery procedures specifically requested by African American patients.
Sections of the Website
WrightJonesPlasticSurgery.com includes primary information categorized logically into separate sections to help a new reader navigate through the required information quickly. There is a separate section providing details about Dr. Wright Jones, including his academic achievements, training, experience, and expertise in specific ethnic and other plastic surgery procedures. It also talks about the research efforts of Dr. Jones, his involvement with various national and international conferences, and the awards and honors that he has won during his career as a plastic surgeon.
CreativeTake has provided separate sections for various plastic surgery procedures that Dr. Jones offers to African American as well as other patients through his two offices. A complete list of surgical procedures for the face, nose, body, and breast is provided at the website. Patients will also find detailed description on each procedure provided in a simple, patient-friendly language. Dr. Jones also provides a few non-surgical skin treatments, which are included under a separate section on the site.
Blog and 'Patients' Section
A dedicated blog section is provided on the site, which will provide regularly updated information about new procedures, techniques, and other issues related with African American and other types of plastic surgery. Constant blog updates will be provided by CT Medical to ensure that potential patients may visit the site regularly and form a relationship of loyalty with the site.
A unique "Patients" section on the website has been designed by CreativeTakeMedical.com. The section includes sub-sections such as Patient Portal, Testimonials, and Financing. This section allows for more personalized engagement to the patients, and provides them insights about how other patients perceive Dr. Jones' practice.
About CreativeTake Medical Palm Desert, California
CreativeTake Medical is a full-service Website Design and Digital Internet Marketing company with decades of combined experience in the medical and e-marketing industries.
We specialize in:
Serving clients nationwide: Palm Springs, Los Angeles, San Diego, San Francisco, California Chicago, Illinois, New York, San Jose, Dallas, Houston, Austin, Texas Miami, Orlando, Tampa, Florida, New Orleans, LA, Atlanta, GA, Salt Lake City, UT, Seattle, WA, Denver, CO, Richmond, VA, Washington DC, Columbus, OH and more.