CreativeTake Launches New Plastic Surgery Website M-Body.com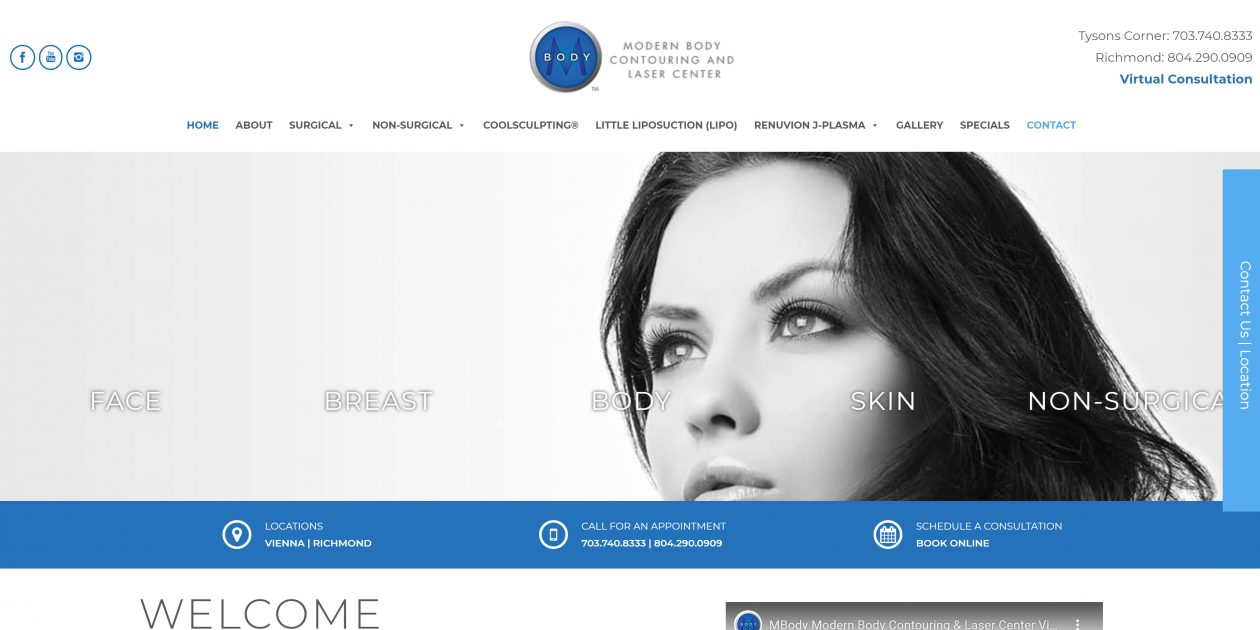 CreativeTakeMedical.com has launched one of the most comprehensive websites called M-Body.com for the Modern Body Contouring & Laser Center. The website has been developed for board certified plastic surgeons Dr. Burton M. Sundin and Dr. Reps B. Sundin, who are renowned surgeons leading the MBody practice.
Home Page Design
CreativeTake is proud of its design team that has developed an outstanding home page for Dr. Burtons' website. CT Medical designers know from experience that first impressions matter a lot in website design. Site visitors will typically form an impression about the website in the first few seconds, and thereafter it gets hard to change their opinion.
CreativeTake Medical has placed stunning visuals of women with attractive bodies on the top portion of the home page. These carefully chosen images are likely to make the maximum impact on a site visitor and encourage them to explore the site further.
MBody offers cosmetic surgery and non-surgical procedures related to the breast, body, face and skin. New site visitors can immediately identify the treatment area of their choice to review the procedures available for that area.
The home page also includes effective displays for call to action, inviting new visitors to request a consultation online. A link to before and after photos is prominently presented on the home page. Finally, the page also invites visitors to engage with the practice via social media, and provides social icons.
A location map and directions are embedded at the bottom of the home page, making it convenient for site visitors to find nearly all relevant information on the page.
An impactful video about MBody practice is provided in the middle of the home page. This engages visitors who prefer to view or hear rather than read a lot. At the same time, the video adds more SEO value to the website.
About Us Section
CreativeTakeMedical.com has produced a detailed "About Us" section that is accessible through the horizontal menu bar at the top of the home page screen. Through this section, patients can check out web pages that offer description of the professional credentials of Dr. Burton Sundin and Dr. Reps Sundin.
The second also includes other sub-sections such as Why M-Body and Why Choose a Board Certified Plastic Surgeon. These sections provider an overview of the strengths of the practice, and educates new readers about the importance of choosing ABPS board certified plastic surgeons.
Social Proof is presented in the form of client testimonials, RealSelf Reviews, and Media Appearances for Drs. Burton and their practice.
Procedure Sections
Modern Body Contouring and Laser Center offers an extensive range of surgical and non-surgical aesthetic procedures. The website M-Body.com does ample justice by way to providing thorough and accurate descriptions of all the procedures.
Through this website, CreativeTake Medical has virtually created one of the most comprehensive online educational resources about cosmetic procedures. They have also included a before and after images gallery and a video gallery, which presents visual evidence of the potential benefits of all the procedures offered at the practice.
About CreativeTake Medical Palm Desert, California
CreativeTake Medical is a full-service Website Design and Digital Internet Marketing company with decades of combined experience in the medical and e-marketing industries.
We specialize in:
Serving clients nationwide: Palm Springs, Los Angeles, San Diego, San Francisco, California Chicago, Illinois, New York, San Jose, Dallas, Houston, Austin, Texas Miami, Orlando, Tampa, Florida, New Orleans, LA, Atlanta, GA, Salt Lake City, UT, Seattle, WA, Denver, CO, Richmond, VA, Washington DC, Columbus, OH and more.