CreativeTake Launches Website Redesign for McLainSurgicalArts.com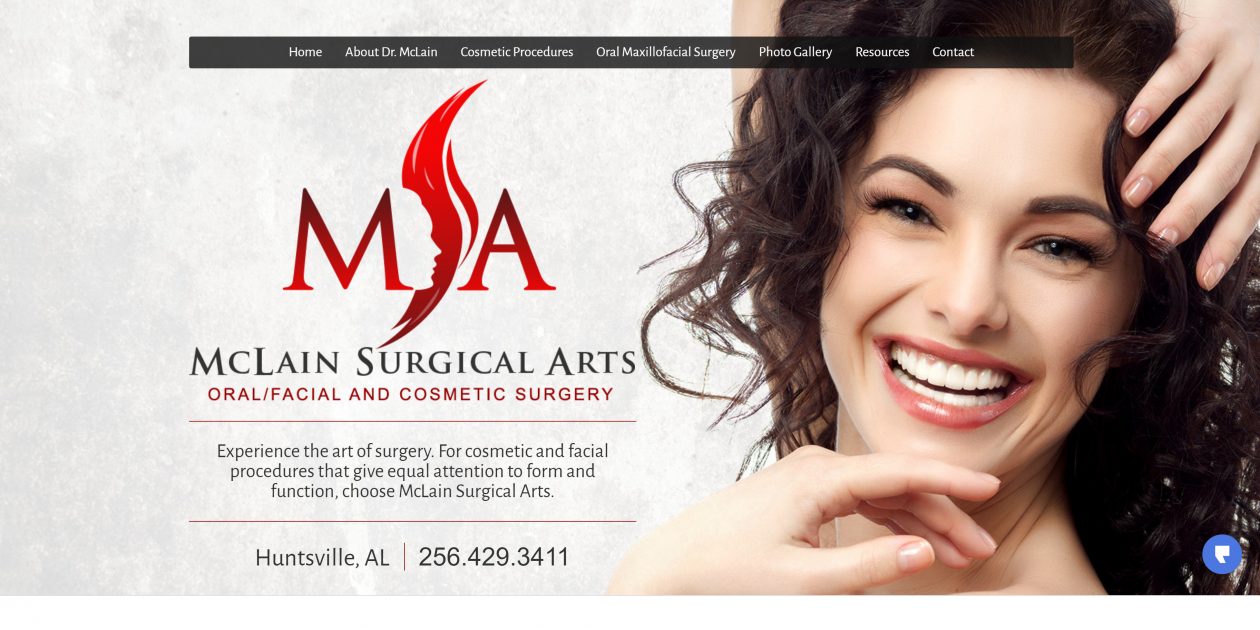 CreativeTake Medical recently launched a new site redesign for McLain Surgical Arts, a premier oral and maxillofacial and cosmetic surgery practice, led by Dr. Landon McLain. Dr. McLain is a leading double board certified oral and maxillofacial surgeon as well as a highly experienced plastic surgeon in Huntsville, AL.
Dr. McLain wanted to revamp his site design and build an innovative website McLainSurgicalArts.com that would not only showcase his core practice areas and strengths, but also serve as a unique online resource to inform and educate potential patients about the latest procedures and techniques available to them in the area of oral and maxillofacial and cosmetic surgery.
Comprehensive Website
One of the key tasks before the experienced team of site design and content development professionals at CreativeTakeMedical.com was to include the two diverse areas of expertise of Dr. McLain seamlessly in the same website. Dr. McLain was clear about having only website to represent his practice.
Therefore, CreativeTake experts decided to dedicate nearly equal amount of site space on McLainSurgicalArts.com to oral and maxillofacial procedures and cosmetic surgery procedures, both of which are Dr. McLain's primary practice areas. Bringing both diverse surgery areas under the same website is meant help those patients who may require a combination of both types of procedures.
Secondly, a new site visitor can simply review a single comprehensive website that includes all types of information about both oral and maxillofacial and plastic surgery procedures under one roof. As a result, the site offers in-depth information about procedures ranging from dental implants and wisdom teeth extractions to breast augmentation, rhinoplasty and Botox.
Section on Dr. McLain
CreativeTake site designers chose to highlight the information about Dr. McLain prominently for the sake of new patients who may like to review or compare such information before taking a final decision. The information was divided into three separate sections called Getting to Know Dr. McLain, CV and Testimonials.
Getting to know section sheds light on Dr. McLain's leadership activities in the field, his involvement with training and lecturing of fellow surgeons, his hospital appointments and memberships of professional organizations, papers and publications, and community engagement.
The CV provides a detailed view of his educational qualifications, training and experience. The Testimonial section provides information about what past and present patients have to say about their treatment experience with Dr. McLain.
Procedure Sections
Procedure sections are broadly classified into Oral & Maxillofacial section and Cosmetic Surgery section. The Oral & Maxillofacial section is sub-divided into four key procedures, which include wisdom teeth extraction, dental implant surgery, jaw surgery, and facial trauma surgery.
The cosmetic surgery procedure section is also sub-divided into four parts, including breast, body, face, and skin. Breast procedures include detailed informed on breast augmentation, breast lift, breast reduction, and breast revision procedures.
Liposuction and tummy tuck surgery are included under the Body procedures. Face procedures include facelift, brow lift and other surgeries. A range of non-surgical skin rejuvenation procedures is included under the Skin section. Other sections on the website include Photo Gallery, Fees and Financing, Out of Town Patients, and Newsletter Subscription.
About CreativeTake Medical
CreativeTake Medical is a full-service Website Design and Digital Internet Marketing company with decades of combined experience in the medical and e-marketing industries.
We specialize in: