Generate Patient Leads
Medical marketing is a highly specialized area involving authentic domain knowledge and experience in order to build an accurate and relevant online campaign for a doctor. The key challenge in online marketing for doctors is to keep the focus on localized potential patients who may actually visit their practice for a consultation and treatment.
This involves a systematic and targeted SEO and online marketing campaign to achieve the desired, targeted exposure for the doctor's practice over a period of time. CreativeTake Medical is a leading search engine optimization, online marketing, website design, and content development firm providing cutting edge Internet marketing and promotion solutions to doctors in the United States.
Site and Search Retargeting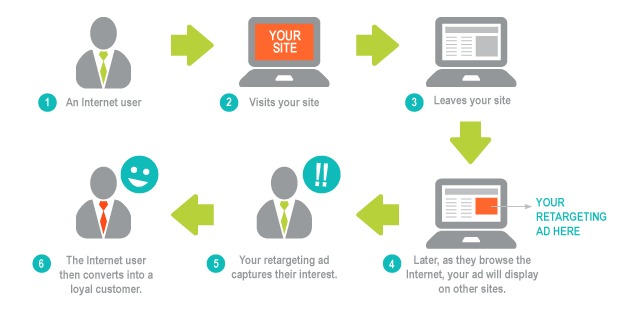 One of the latest and highly innovative online marketing tools that has been designed exclusively for healthcare professionals to attract high quality leads and potential clients is Site and Search Retargeting. This tool enables the marketer to collect actual search and site user data and employ that information to develop and promote targeted advertising.
The tool tracks the online search habits and activity of an average visitor to the doctor's website to understand their psyche. To provide more targeted and usable information, the tool also accounts for the various types of keywords that the users adopt to reach the doctor's website. Once a potential patient reaches the doctor's website, which pages they follow, and what specific actions they perform on the site is also tracked with this tool.
How does Website Retargeting Work?
When a prospective patient visits the doctor's practice website, the automated tool will collect the relevant data about the site visitor in the form of cookies. The technology is designed to capture and remember the particular site visit so that whenever that same patient visits another website within the provider's network, a targeted ad about the doctor's practice will be displayed strategically.
Such high potential patients are much more likely to respond positively to the ad, and click through it to arrive at the doctor's website directly, fill out a contact form, or simply call up the doctor's office for an appointment or for more information. Doctors seeking medical marketing and SEO support for their practices can get in touch with the executives at CreativeTakeMedical.com.
How does Search Retargeting Work?
When a potential patient seeks information about a specific medical area over the Internet, and searches for a localized keyword such as "tummy tuck in Beverly Hills" or "skin care in Dallas," the technology involved in this site retargeting tool will identify the patient through these search terms.
Most patients will typically visit more websites over a period of time, and as they arrive at sites within the given network, the site will recognize the visitor and display a retargeted advertisement. This kind of well-defined online engagement with prospective patients typically yields positive results with patients viewing the ad and clicking through to review the doctor's website.
Such advanced online retargeting technology has a very wide reach and provides an impactful way to appeal to high potential patients who are actually seeking medical care and are likely to convert.
About CreativeTake Medical
CreativeTake Medical is a full-service Website Design and Digital Internet Marketing company with decades of combined experience in the medical and e-marketing industries.
We specialize in: