CreativeTake Medical Launches New Website PartnerEquity.net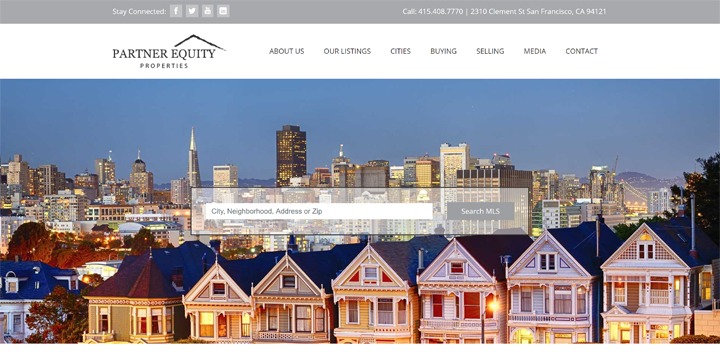 In the digital age, the rules of real estate marketing have completely transformed. The traditional entry in the Yellow Pages and relying on word of mouth publicity is no longer enough to reach out to the digital-savvy target clients in a local area.
The most effective and affordable way to reach out to the connected generation of today is through online marketing.
CreativeTakeMedical.com is a pioneer in the field of digital marketing and has been working for nearly two decades with hundreds of clients to transform their approach to marketing and leverage the power of digital to boost the prospects of their business. CT Medical has now launched PartnerEquity.net to promote the real estate business of Partner Equity Properties.
Home Page
CreativeTake website design experts understand the power of a home page, which is often the first page where a new prospective client will visit. Therefore, CreativeTake teams have invested maximum time and effort in building an impactful home page for PartnerEquity.net website. The home page includes a large image of a residential complex, which immediately assures a new visitor that the site offers precisely what they are looking for.
The home page includes a section for Featured Listings, where potential clients can easily review the available properties on offer and their relevant details and images. The home page also includes a list of brands of service providers, vendors and other firms with whom Partner Equity Properties has an association.
Another key section presented on the home page is Testimonials. New clients can gain more confidence and feel more convinced when they go through the experiences of past customers.
Therefore, this vital section is presented on the home page itself. The home page also includes the contact details and an online form, inviting visitors to engage further and get in touch with the company for more details.
"It's been taken care of" Section
CT Medical has included a unique section called "It's been taken care of…" on PartnerEquity.net. This section describes the company's personal concierge service program, which is designed to provide exclusive services through its resources of service providers from home appraisal services, furnishing services, financial services to closing services.
By leveraging many networks and preferential relationships with thousands of service providers, the company's concierge services specialists have the resources and knowledge to manage the whole real estate and financial process on behalf of the clients.
Other Sections
CreativeTakeMedical.com has included an "About Us" section to provide accurate and in-depth information about Partner Equity Properties. Another section called "Our Real Estate Agents" provides information about the agents and associates who are working with the company.
For prospective clients who are looking to buy a home, the key sections on PartnerEquity.net include:
Buying service
Market trends
Steps to buying a home
Resources
Similarly, for prospective property sellers, the dedicated sections provided by CreativeTake on the website include:
Selling services
What is my home worth?
Staging your home
PartnerEquity.net also includes separate sections for a blog, newsletter, and contact details.
About CreativeTake Medical
CreativeTake Medical is a full-service Website Design and Digital Internet Marketing company with decades of combined experience in the medical and e-marketing industries.
We specialize in: