New Website Design For Dallas Plastic Surgeon khanplasticsurgery.com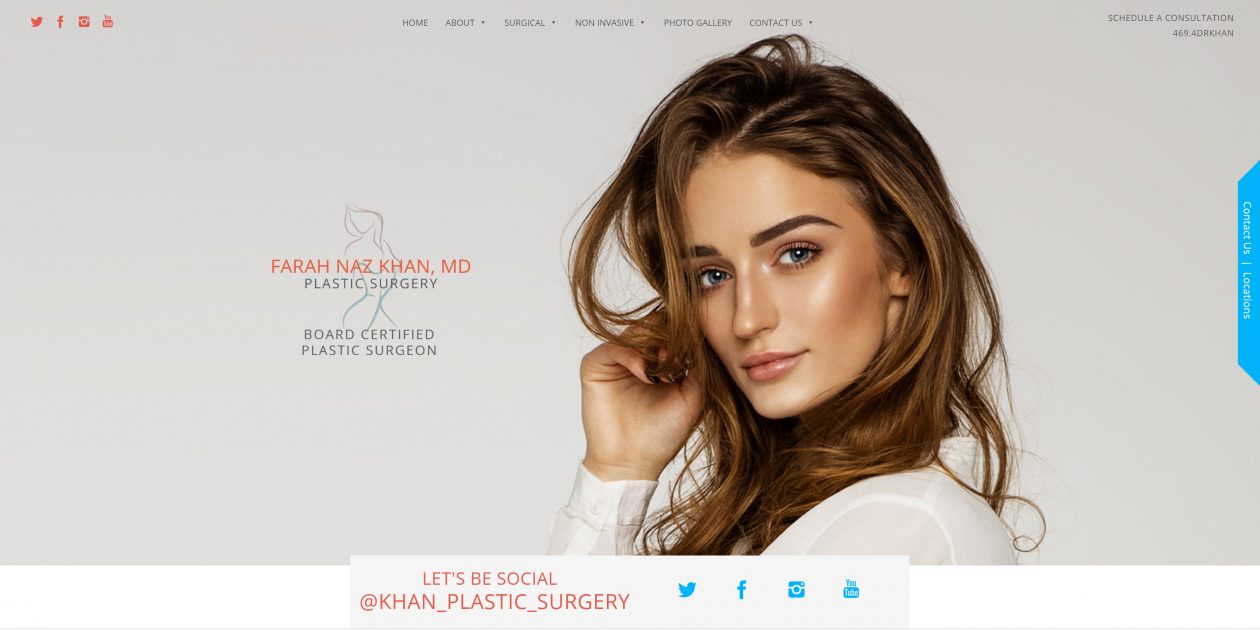 CreativeTake Medical has launched a new website khanplasticsurgery.com for board certified female plastic surgeon in Dallas Dr. Farah Naz Khan. The experienced team of website developers and designers at CreativeTake has crafted a unique and user-friendly design that allows for easy navigation through every section of the website.
CT Medical design experts recognize that each patient seeking a plastic surgery procedure will have different needs when they visit a surgeon's website. At Dr. Khan's website, the visitors can quickly identify the type of procedure or service they are looking for and acquire the relevant and accurate information about it.
Khanplasticsurgery.com is designed to serve as a comprehensive information resource to address all the basic questions and concerns of patients regarding various cosmetic surgical and non-surgical treatments. At the same time, the website successfully showcases the practice of Dr. Khan and builds confidence of the first-time visitors to engage more closely and directly with her office.
About Dr. Khan
CreativeTake Medical content development team has ensured that potential patients can learn about the professional credentials and background of Dr. Farah Khan on the website in a succinct and authentic manner. The section highlights the fact that Dr. Khan is a diplomate of the American Board of Plastic Surgery (ABPS), and a member of the American Society of Plastic Surgeons (ASPS) and the Dallas Society of Plastic Surgeons.
The section not only discusses the technical skills and expertise of Dr. Khan, but also describes her personal qualities that new patients are looking to understand before they can make up their mind to choose a plastic surgeon.
About the Surgeon's Team
Khanplasticsurgery.com distinguishes itself from many other similar websites by providing a dedicated description of the clinical nurse and OR manager, patient care coordinator, post-operative nurse and aesthetics nurse, and the in-house massage therapist at the practice.
Patients often have to interact directly with these staff members and depend on them for a number of services. So, they would like to familiarize themselves with who is on the surgeon's team. CreativeTake has ensured that Dr. Khan's website provides answers to this question in adequate detail.
Procedure Sections on the Website
CT Medical site designers and content creators have crafted individual web pages for various procedures, and categorized them appropriately so that a reader can quickly locate the page they are interested in. Khanplasticsurgery.com focuses on the following surgical procedures:
Breast
24 Hour Recovery® Breast Augmentation
Breast Lift
Breast Reduction
Breast Revision
Body
BodyTite
Liposuction
Tummy Tuck (Abdominoplasty)
Mommy Makeover
Weight Loss Surgery
Face
Brow Lift
Eyelid Surgery
FaceTite
Facial Fat Transfer
Male
CreativeTake Medical has developed a separate section for cosmetic non-invasive procedures on the website.
Other Sections
Khanplasticsurgery.com provides answers to various frequently asked questions that patients have about payment options and financing for their elective cosmetic procedures. These details are provided under the Payments and Financing section. There are other exclusive sections for Blog, Patient Reviews and Contact Us details on the website.
CreativeTake site developers will continue to upgrade and expand the site over time so that it continues to provide new information to patients as well as achieve significant Google search rankings.
About CreativeTake Medical Palm Desert, California
CreativeTake Medical is a full-service Website Design and Digital Internet Marketing company with decades of combined experience in the medical and e-marketing industries.
We specialize in:
Serving clients nationwide: Palm Springs, Los Angeles, San Diego, San Francisco, California Chicago, Illinois, New York, San Jose, Dallas, Houston, Austin, Texas Miami, Orlando, Tampa, Florida, New Orleans, LA, Atlanta, GA, Salt Lake City, UT, Seattle, WA, Denver, CO, Richmond, VA, Washington DC, Columbus, OH and more.