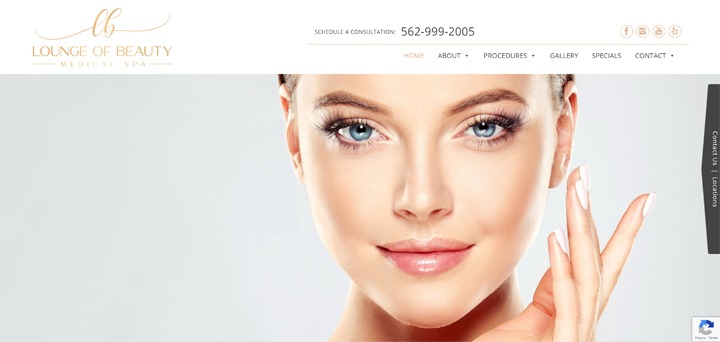 CreativeTake Medical recently launched a new website for "Lounge of Beauty Medical Spa". CT Medical is a leading search engine optimization and internet marketing firm. The firm possesses vast experience in website development by remaining true to the essence of business they are working for. The company has already developed several successful online marketing campaigns for dermatology sites across the United States and just did the same for Lounge of Beauty Medical Spa.
It's vital to create patient-friendly sites especially for something as personal as body contouring. CT Medical understands that the only way to truly win over a patient's trust is by focusing content and images on what the patients requires. While focusing on SEO efforts is important, broadening the horizon to include what prospective patients want is also necessary. This can be seen from the unique combination of search engine optimization efforts, site aesthetics and content strategy on this new site.
New Site for Dr. Solomon Laktineh
CreativeTake Medical built a new website for board certified pediatrician and neonatologist Dr. Solomon Laktineh, keeping in mind his passion for meeting and exceeding patients' needs and his commitment to excellence. LoungeofBeautyMedicalSpa.com is a prime example of how subtle imagery and the right color palette in a website can be used for creating the desired effect on visitors.
Lounge of Beauty Medical Spa basically caters to patients hoping to enhance their personal appearance through non-surgical intervention. The website has everything a prospective patient may need to know on the Home page itself. However, it does have dedicated sections for introducing Dr. Laktineh and his staff and the procedures offered by them.
Content Focused on Patients' Needs
CT Medical understands the need for adequate and appropriate content on a site. It is not enough to build a website and launch it. The job is done only when the site is able to convert visitors into patients. Like Dr. Laktineh focuses on patients' needs, the site focuses on what they are looking for as well.
There are dedicated and detailed sections explaining the various services on offer. CT Medical created separate and distinct webpages explaining individual procedures in detail. Each webpage comes with its own specific call-to-action and a button to make it easier for patients to schedule an appointment.
Taking Commitment One Step Forward
Humans are easier persuaded when they see something rather than just being told about it. This is why CreativeTake Medical dedicated an entire webpage to procedural photos. The webpage succinctly called "Gallery" has individual sections to display images of different procedures.
The idea is to make it simple and easy for prospective patients to understand what particular procedures can do for them. This allows prospective patients to get an understanding of the procedure and schedule an appointment after making up their minds.
The experienced teams of web designers, content creators, and SEO specialists at CT Medical are committed to building high quality websites that inform, educate, and promote the target audience. We work with an aim to see our client websites achieve the top search rankings on Google Page One for all major keywords.
About CreativeTake Medical
CreativeTake Medical is a full-service Website Design and Digital Internet Marketing company with decades of combined experience in the medical and e-marketing industries.
We specialize in: