CreativeTakeMedical.com Launches New Website for Little Rock Plastic Surgery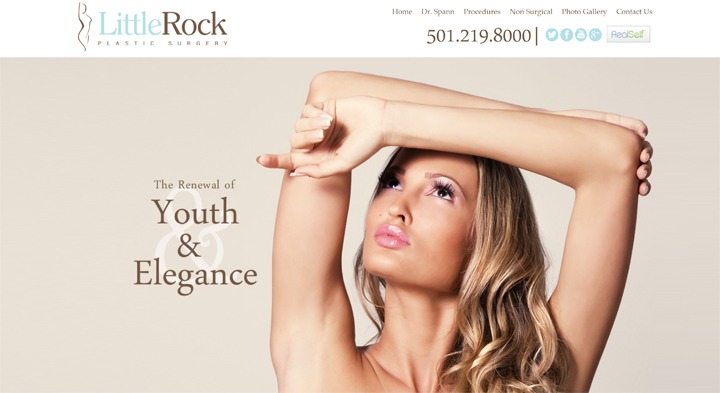 CreativeTake Medical is one of the pre-eminent website development, search engine optimization and online marketing companies working exclusively for medical professionals. Plastic surgeons, dermatologists, dentists, and other healthcare professionals who are keen to reach out to a greater number of potential patients in their local area may partner with CT Medical to achieve their marketing goals.
The core strength of CreativeTake is it young team of innovative website developers, SEO specialists, content writers, and digital marketers who work together to put the doctor's website on top of Google search results. Whether it is a new practice or an established one, CreativeTakeMedical.com is geared to help them achieve their business goals most effectively.
New Website for Dr. Michael Spann
Dr. Michael Spann heads Little Rock Plastic Surgery in Arkansas. CT Medical has developed a comprehensive new website for Dr. Spann called LittleRockPlasticSurgery.com. Dr. Spann gave a clear mandate to the expert team of CreativeTake to produce a website that would serve as a thorough educational resource and reference site for potential patients who are looking for reconstructive and plastic surgery procedures.
CT Medical came up with an outstanding web design and detailed, focused and relevant content in a patient-friendly language. The website targeted the local people in and around Little Rock, Arkansas who may be looking for suitable aesthetic surgery options. These are the most potential people who may actually visit Dr. Spann's practice if they know about it. The website has been created precisely for such targeted local patients, and provides them highly useful information on various plastic and cosmetic surgery procedures provided by Dr. Spann.
Separate Section on Dr. Spann
CT Medical's past experience has shown that most of the new patients are keen to learn about the doctor's background while they are considering the option of plastic surgery. Keeping this in mind, it created a prominent, dedicated website section on LittleRockPlasticSurgery.com that provides detailed and accurate information on the academic qualifications, training, experience, certifications, and recognition that Dr. Spann has achieved in his career.
The section highlights Dr. Spann's double board certifications, and explains the reader about how these certifications distinguish the doctor from many others. The website also provides a link to a PDF file that includes Dr. Spann's detailed CV.
Sections on Procedures
Little Rock Plastic Surgery provides an extensive range of cosmetic and plastic surgery procedures. The site categorizes the procedures into three separate sections, including the Face, Body, and Breast. Under each of these broad categories, various procedures are listed and explained in detail. A separate web page is dedicated for each procedure, making it convenient and easily navigable for the reader to view the specific procedure that they may be looking for.
Other Sections
A separate section for non-surgical procedures is included in the website for patients who may not be keen to pursue surgical treatment options. A unique section called "How to Choose the Right Plastic Surgeon in Little Rock" is also provided on the site for new patients. Other dedicated sections include Photo Gallery, Patient Testimonials, Blog, and Financing.
About CreativeTake Medical Palm Desert, California
CreativeTake Medical is a full-service Website Design and Digital Internet Marketing company with decades of combined experience in the medical and e-marketing industries.
We specialize in:
Serving clients nationwide: Palm Springs, Los Angeles, San Diego, San Francisco, California Chicago, Illinois, New York, San Jose, Dallas, Houston, Austin, Texas Miami, Orlando, Tampa, Florida, New Orleans, LA, Atlanta, GA, Salt Lake City, UT, Seattle, WA, Denver, CO, Richmond, VA, Washington DC, Columbus, OH and more.