CreativeTake Medical Launches New Website UnionSquareDerm.com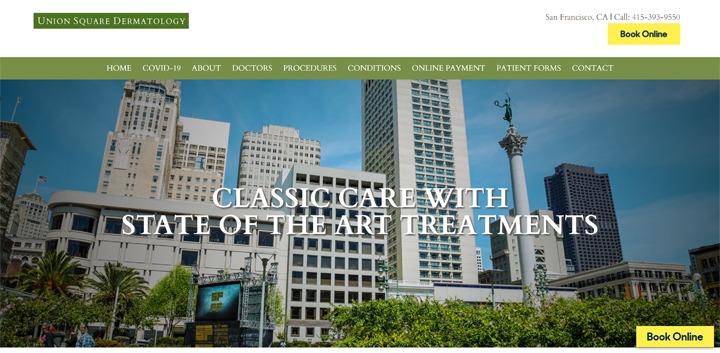 CreativeTake Medical has now launched a new website called UnionSquareDerm.com. The website has been created for Union Square Dermatology in San Francisco. CT Medical has nearly two decades of experience in developing highly effective websites for the medical community in the US.
The website UnionSquareDerm.com is the latest addition to its long list of web creations for illustrious doctors across the country.
The site architecture of this website is search engine friendly, and the website is completely mobile compatible. CreativeTake website designers recognize that more patients today access medical websites through their mobile devices than PCs and laptops. Therefore, they take special care to ensure that every web page is designed in a mobile friendly way.
Home Page
CreativeTakeMedical.com teams devote maximum time to design and develop the home page content because it receives the largest number of site visitors, and creates the first impact on the visitor's mind about the practice. UnionSquareDerm.com has an attractive home page design that stands out and immediately captures the reader's interest to engage with the entire website.
The home page provides a succinct introduction of Union Square Dermatology practice and highlights the fact that the practice is led by three board certified dermatologists Dr. Vail Reese, Dr. Felicia Hall, and Dr. Anne Zhuang. These skin care professionals are dedicated to helping patients enjoy youthful, healthy skin, and offer customized treatments for each patient.
The home page includes a horizontal menu bar with drop down menus under each time for easy navigation. A new site visitor can quickly identify the relevant information they may be looking for. The home page also includes office contact details as well as a gentle call to action to encourage new patients to engage further with the dermatology practice.
Meet the Doctors
CreativeTake Medical teams know from experience that for new patients one of the most important sections in any website is the "About Us" page, which includes information about the doctor's professional credentials and background. Therefore, in this website for Union Square Dermatology, CT Medical designers have prominently included information about the three doctors.
While brief introduction about the doctors is provided on the home page itself, new patients can click on the "Read More" button to learn about the doctor in greater details on a separate dedicated web page. The baseline to describe the doctors includes just three powerful words: experience, excellence, and commitment.
Services Section
CreativeTake has provided in-depth, dedicated web pages for each service and procedure offered at Union Square Dermatology. These include:
BOTOX Cosmetic
Xeomin
Juvederm for facial lines
Laser Tattoo Removal
V-Beam Perfecta for facial blood vessels
Laser treatment for leg veins
Laser treatment of sun spots
Mole Removal
Skin Cancer Checks
Mohs skin cancer surgery
Other Sections
UnionSquareDerm.com includes a separate section to describe various skin conditions in order to inform and educate patients. Other sections include Contact Us, Online Payments, and Patient Forms. Online payment is a unique option that offers convenience to patients who may want to pay for a service directly through the website.
About CreativeTake Medical Palm Desert, California
CreativeTake Medical is a full-service Website Design and Digital Internet Marketing company with decades of combined experience in the medical and e-marketing industries.
We specialize in:
Serving clients nationwide: Palm Springs, Los Angeles, San Diego, San Francisco, California Chicago, Illinois, New York, San Jose, Dallas, Houston, Austin, Texas Miami, Orlando, Tampa, Florida, New Orleans, LA, Atlanta, GA, Salt Lake City, UT, Seattle, WA, Denver, CO, Richmond, VA, Washington DC, Columbus, OH and more.