CreativeTake Medical Launches New Website OCSPS.org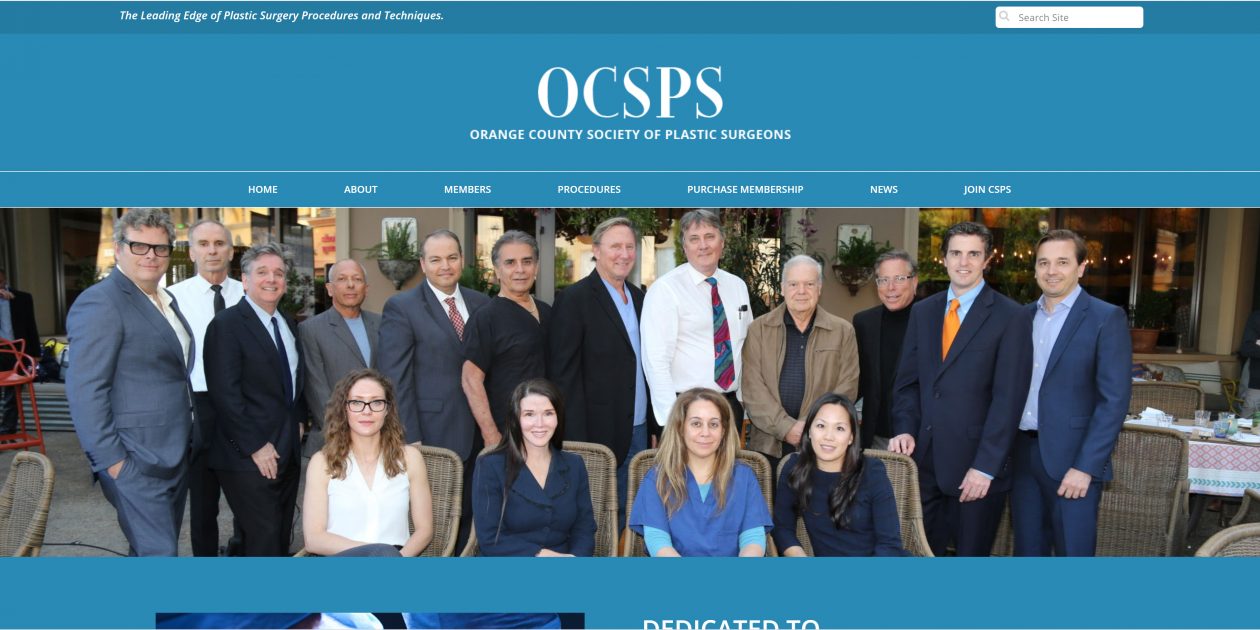 CreativeTakeMedical.com is one of the leaders in digital marketing for plastic surgeons across the US. American women and men spend billions of dollars every year on plastic surgery procedures. The popularity of these procedures has led to the increasing competition among plastic surgery and non-surgical cosmetic practices across the country.
This has also led to a situation where even the best of plastic surgeons cannot rely on traditional marketing methods or word of mouth alone. CreativeTake Medical is closely working with a large number of independent plastic surgery practitioners in the US to create a strong Internet presence for their practices and boost their online reputation.
CT Medical supports plastic surgeons in their marketing goals by successfully promoting their practices online at a fraction of the cost of traditional advertising and marketing methods. CreativeTake has now launched a new website OCSPS.org for the Orange County Society of Plastic Surgeons.
Home Page
The home page of OCSPS.org showcases a large group photo of OCSPS members and position holders. Images help establish a better familiarity and create a more personal connection between the site visitors and the organization. Therefore, CreativeTake website designers have given special emphasis on presenting effective images on the home page of OCSPS website.
The home page clarifies the purpose of the OCSPS website, which is to help patients identify the right plastic surgeon in Orange County and surrounding areas for their needs. A section called "Dedicated to Patient Care" on the website explains the commitment of member surgeons of the society towards delivering best possible outcomes for the patients.
Procedures Section
The OCSPS Procedures section provides general information as an introduction to various cosmetic and plastic surgical procedures. Most of the vital procedures that are offered by OCSPS member surgeons are covered in this section. Potential patients in Orange County are encouraged to schedule a consultation with a surgeon of their choice in order to determine which of the procedures may be most appropriate for their needs.
Some of the key procedures described on the OCSPS website include aesthetic and reconstructive procedures related to:
Body
Breast
Complete Solutions
For Men
Face
Injectables
Skin and Hair
Surgeon Listings
CT Medical has included the professional details of all the member surgeons of OCSPS. This includes their image, name, qualifications, contact details, and website address. The website also includes a dedicated section on how to find the right surgeon. Patients are encouraged to use the Orange County Society of Plastic Surgeons database to locate a plastic surgeon in their area.
CreativeTake Medical has highlighted the fact that when a patient chooses any surgeon from the listings on the OCSPS.org website, they are assured that the surgeon would have a certain minimum professional credentials and experience in the area of plastic surgery.
Each hard working and astute surgeon is certified by the American Board of Plastic Surgery (ABPS) or equivalent peer review organization in the respective country of an international member. But the recognized credentials may vary for plastic surgeons practicing outside the US and Canada.
About CreativeTake Medical Palm Desert, California
CreativeTake Medical is a full-service Website Design and Digital Internet Marketing company with decades of combined experience in the medical and e-marketing industries.
We specialize in:
Serving clients nationwide: Palm Springs, Los Angeles, San Diego, San Francisco, California Chicago, Illinois, New York, San Jose, Dallas, Houston, Austin, Texas Miami, Orlando, Tampa, Florida, New Orleans, LA, Atlanta, GA, Salt Lake City, UT, Seattle, WA, Denver, CO, Richmond, VA, Washington DC, Columbus, OH and more.