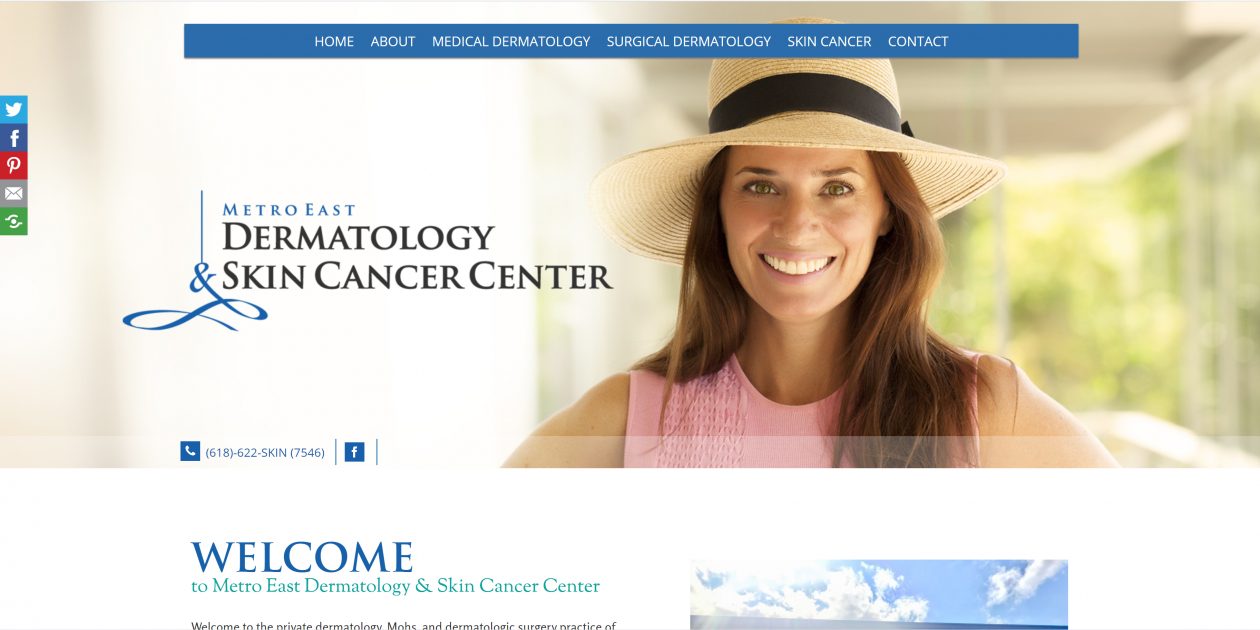 Metro East Dermatology and Skin Cancer Center is a premier practice offering cutting edge skin care solutions in medical as well as cosmetic dermatology. The practice has partnered with CreativeTakeMedical.com to design, launch and manage its new website DermSkinCancerCenter.com.
The newly launched website creates a dramatic visual impact through highly attractive images on its home page as well as other web pages. Potential patients who visit the website receive a positive experience pervading throughout the site, and feel encouraged to explore various sections of the site.
DermSkinCancerCenter.com dermatology practice is led by board certified dermatologist and fellowship trained Mohs surgeon Dr. Jamie McGinness. The astute and tremendous Dr. McGinness receives patients from Shiloh, IL; St. Louis, MO, and other suburbs and neighborhoods in this part of the Midwest for advanced skin care treatments.
The website offers an overview of Dr. McGinness' state of the art dermatology practice, and includes comprehensive information about various cosmetic, medical and surgical dermatology procedures and techniques.
About Us Section
CreativeTake Medical content and design experts chose to highlight the qualifications and other professional credentials of Dr. McGinness prominently on the website. He distinguishes himself with a board certification in dermatology and is recognized as the only fellowship trained Mohs Micrographic surgeon in the Metro East Illinois St. Louis area.
DermSkinCancerCenter.com focuses on Dr. McGinness' expertise in Mohs technique, which is considered the gold standard in skin cancer treatment. The site describes the high-precision surgical approach of Dr. McGinness to minimize the amount of healthy tissue removed while excising the malignant tissue, which helps improve health and cosmetic outcomes.
The website also establishes the authority of Dr. McGinness as an expert Mohs surgeon by informing the readers about his extensive experience. He has performed till date more than three thousand surgeries using the Mohs technique.
Medical Dermatology
CT Medical has included a dedicated Medical Dermatology section in the website. The section describes some of the proven and effective specialized treatments for persistent skin concerns that the practice offers. Dr. McGinness offers advanced medical dermatology solutions for skin conditions such as:
Acne
Moles & Growths
Benign Lesions
Rashes
These conditions and their latest treatment options are discussed in detail in the Medical Dermatology section.
Surgical Dermatology
Another important section in the website of Dr. McGinness is the Surgical Dermatology section. CreativeTake experts recognized that the major focus of the practice is on surgical dermatology procedures to treat skin cancers. The section describes the individualized treatment plan that Dr. McGinness creates to address the problem from its root.
The section discusses Dr. McGinness' areas of expertise in surgical dermatology, which include:
Mohs Micrographic Surgery
Excisional Surgery
Reconstructive Surgery
Non-Surgical Skin Cancer Treatments
Outstanding and innovative CreativeTake Medical content providers included a separate section for non-surgical skin cancer treatments in DermSkinCancerCenter.com. The section informs potential patients that while some lesions do require surgical removal, for smaller, superficial tumors identified in the early stages of development non-surgical treatment options are also available.
Non-surgical skin cancer treatments are typically used to treat basal cell carcinomas, squamous cell carcinomas, or pre-cancerous growths, such as actinic keratosis. The website explains various non-surgical treatment options, such as radiation therapy, topical chemotherapy, freezing, and light therapy.
About CreativeTake Medical Palm Desert, California
CreativeTake Medical is a full-service Website Design and Digital Internet Marketing company with decades of combined experience in the medical and e-marketing industries.
We specialize in:
Serving clients nationwide: Palm Springs, Los Angeles, San Diego, San Francisco, California Chicago, Illinois, New York, San Jose, Dallas, Houston, Austin, Texas Miami, Orlando, Tampa, Florida, New Orleans, LA, Atlanta, GA, Salt Lake City, UT, Seattle, WA, Denver, CO, Richmond, VA, Washington DC, Columbus, OH and more.