CreativeTakeMedical Launches New Website Acco.org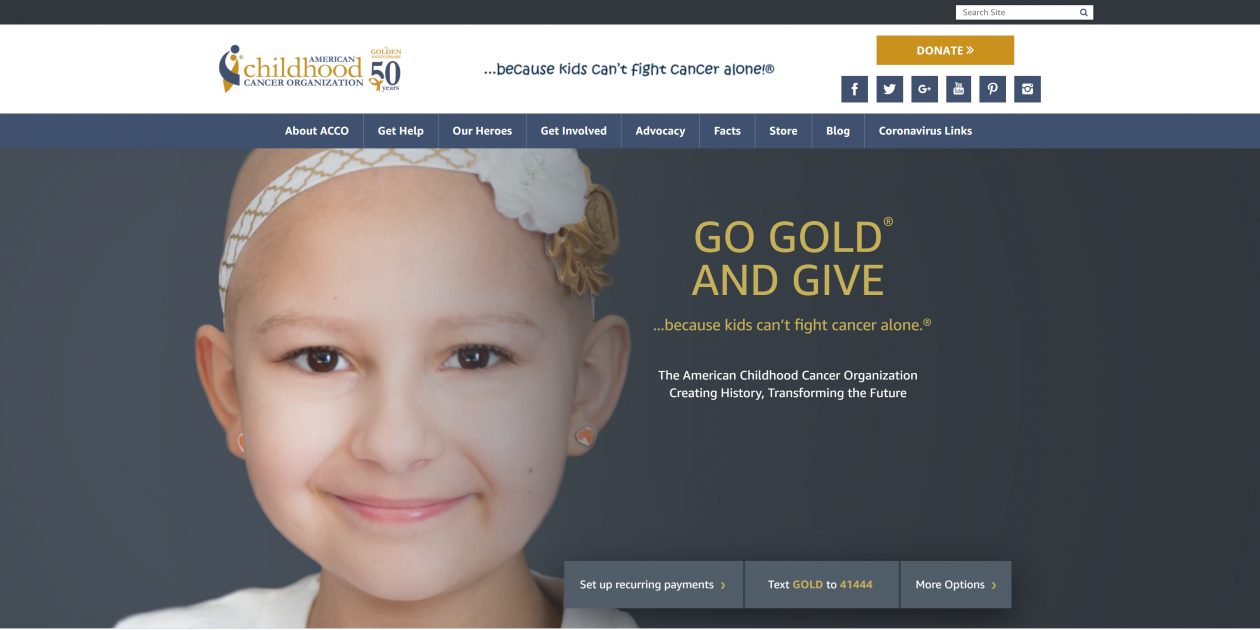 The American Childhood Cancer Organization (ACCO) is committed to pursuing a major humanitarian mission on childhood cancer challenges.
CreativeTake Medical, a highly regarded and experienced digital marketing, search engine optimization, and site development specialist for medical practices and organizations, has designed and developed their new website Acco.org.
Informative Resource
CT Medical's team immediately understood the high responsibility that they would need to shoulder in creating the ACCO website on being tasked with its development. CreativeTake Medical wanted to ensure that they deliver an excellent website that would serve as a comprehensive and authoritative resource for people not only in the US but also worldwide.
CT Medical developed various prominent sections to provide information on ACCO and its mission as well as purpose in a comprehensive and detailed manner. CreativeTake created a "Welcome" section which contained many sub-sections such as Mission, Board and Staff, History, and Timeline.
It is useful for a new visitor to understand various aspects of ACCO, and develop an insight into the organization to be able to appreciate its values. This would enable them to comprehend the organization's purpose and contribute to further its objectives.
The website has sections that new visitors can conveniently review detailed information on various aspects of the organization and acquaint themselves with ACCO and its mission, values, and background. CreativeTake Medical took meticulous care to ensure that these sections contain accurate and precise information that is relevant to the average visitor.
Site Sections
ACCO requires donations and funds to further its objective and mission on childhood cancer. CT Medical's team provided a conspicuous "DONATE" tab on the website to generate online donations for the organization. Another main section called "Assistance" is a resource for individuals affected by childhood cancer. It contains various sub-sections such as "Founding Hope," "Local Groups," and "Clinical Trials."
Visitors who feel compelled to assist or get involved in ACCO's mission can visit the site's "Action" tab. Information on Childhood cancer is provided in a section labeled "What you should know" displayed prominently on the homepage. Another significant section on the website is "Advocacy," "Awareness," and "Resources."
Search Engine Optimization (SEO)
CT Medical was focused on ensuring that acco.org should be amongst the top search results on Google for the most significant number of relevant keywords. It took particular care of the SEO factors for the website from the development stage itself. It continually incorporated relevant keywords, content, and SEO titles and tags within the website.
SEO is a routine process at CreativeTake Medical and it ensures that the website receives significant traffic, functions at the optimal level engages target audiences adequately and encourages them to take the desired action promptly. Acco.org has received phenomenal results and remains one of the most innovative website projects by CT Medical.
CreativeTake Medical has extensive experience of nearly two decades in the design, development and marketing of websites for plastic surgeons and other medical practitioners. With the creation of a dynamic website like Acco.org, CT Medical has now extended its reach outside the realm of medical practitioners to deliver similar standards in website development and marketing.
About CreativeTake Medical Palm Desert, California
CreativeTake Medical is a full-service Website Design and Digital Internet Marketing company with decades of combined experience in the medical and e-marketing industries.
We specialize in:
Serving clients nationwide: Palm Springs, Los Angeles, San Diego, San Francisco, California Chicago, Illinois, New York, San Jose, Dallas, Houston, Austin, Texas Miami, Orlando, Tampa, Florida, New Orleans, LA, Atlanta, GA, Salt Lake City, UT, Seattle, WA, Denver, CO, Richmond, VA, Washington DC, Columbus, OH and more.