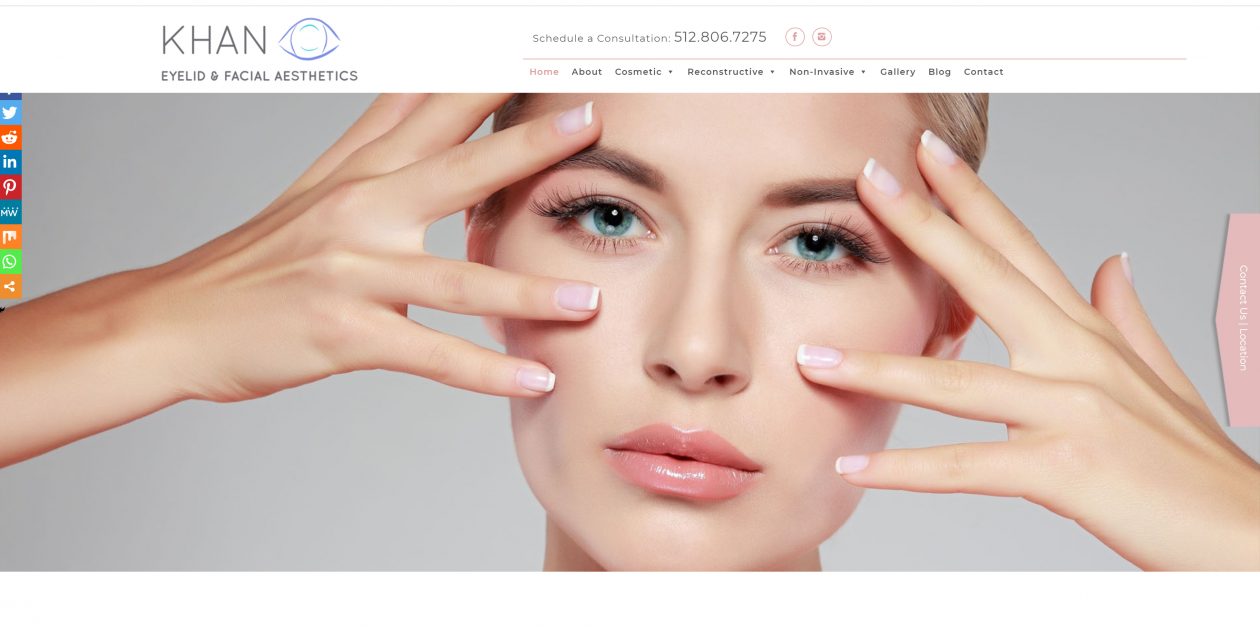 CreativeTake Medical has recently launched a new website khaneyelidsurgery.com for Oculoplastic and Reconstructive surgeon, Dr. Tanya Khan.
The website aims to serve as a comprehensive source for surgical and non-invasive procedures for the eyes as well as promoting the services offered by Khan Eyelid and Facial Aesthetics.
Khaneyelidsurgery.com has been designed as a patient-friendly website featuring content that is easy to understand without compromising on the accuracy and quality of the medical information.
CT Medical's team of site designers and content developers has offered the site a unique look to showcase Dr. Khan's practice in a professional manner.
Over the past two decades, CreativeTake Medical has consistently pursued excellence in digital marketing for medical professionals across the US and has assisted hundreds of independent medical practitioners in accomplishing their business goals.
CreativeTake Medical has perfected the art of creating patient-friendly sites and content for cosmetic surgeons and other medical professionals while simultaneously focusing on search engine optimization to broaden the targeted local reach of the website.
'About' Section on the Website
Khaneyelidsurgery.com includes a comprehensive "About" section that provides prospective patients with pertinent and current information about Dr. Tanya Khan and her practice.
New patients are usually concerned about the doctor's professional credentials, experience, qualifications, and accomplishments.
CreativeTake Medical understands from experience that new visitors to the site typically spend more time on this section of the website and often make their decision of seeking a consultation with the doctor on the basis of how they feel about the surgeon's background and the facilities and services that the practice offers.
For this reason, CT Medical's site development teams devote a significant amount of attention and effort to this section.
Dr. Khan's credentials have been showcased in a concise, transparent, and clear way to help new patients become familiar with the Oculoplastic and Reconstructive surgeon and feel encouraged to choose the surgeon for the facial and eye procedure consultation.
Sections on Services
The website has classified the services offered at the practice under the following sections: Cosmetic, Reconstructive, and Non-invasive.
This allows the patients to easily identify the services that they seek and get in-depth information on the various procedures offered at Dr. Khan's practice.
Each treatment option is described in detail through individual web pages allowing new patients to conveniently attain information on the services that they seek.
Dr. Khan offers innovative procedure such as Asian eyelid surgery, eyelid bump surgery, lacrimal and orbital procedures, and dermal filler treatments. Patients can understand more about each procedure so that they can have a basic idea for a more productive consultation when they actually meet Dr. Khan.
Other Sections
Khaneyelidsurgery.com also features other sections such as an image gallery, blog, and contact sections.
The photo gallery sections feature before and after images that have been classified according to various procedures that Dr. Khan performs to enable patients to view images of the procedures that they are interested in.
The Contact Us section includes relevant details for patients to set-up a consultation as well as a section for prospective patients to leave their questions or comments. The website also features a blog that offers further details on Dr. Khan and her practice.
About CreativeTake Medical Palm Desert, California
CreativeTake Medical is a full-service Website Design and Digital Internet Marketing company with decades of combined experience in the medical and e-marketing industries.
We specialize in:
Serving clients nationwide: Palm Springs, Los Angeles, San Diego, San Francisco, California Chicago, Illinois, New York, San Jose, Dallas, Houston, Austin, Texas Miami, Orlando, Tampa, Florida, New Orleans, LA, Atlanta, GA, Salt Lake City, UT, Seattle, WA, Denver, CO, Richmond, VA, Washington DC, Columbus, OH and more.