CreativeTake Medical Launches New Legal Website SBEMP.com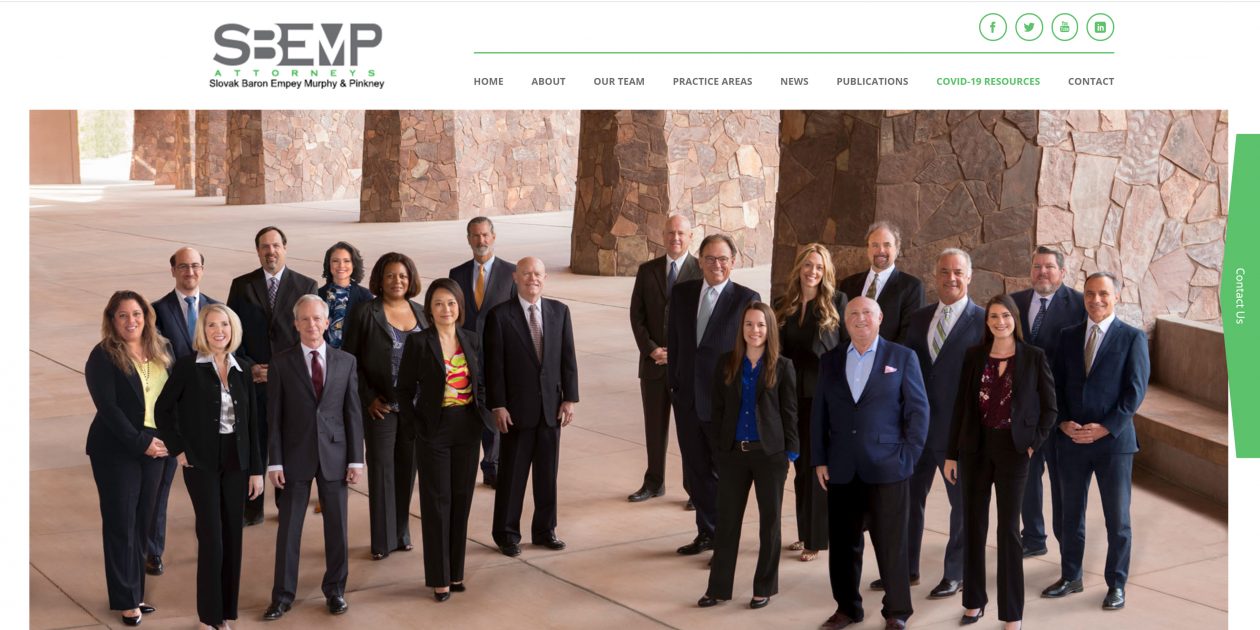 Over the last nearly 20 years, CreativeTake Medical has consistently pursued excellence in the area of digital marketing for legal professionals across the United States. CreativeTake has assisted hundreds of professionals from various domains to achieve their business goals in the past many years.
CT Medical has consistently developed user-friendly websites that contain relevant and pertinent information for people seeking legal help. At the same time, CreativeTake focuses on search engine optimization to widen the targeted local reach of the website.
New Website for a Leading Law Firm
CreativeTake has recently launched a website, sbemp.com, for leading law firm SBEMP attorneys. The website is a digital resource for information on various legal areas ranging from Dispute Resolution and Appeals to Mergers & Acquisitions.
The site provides relevant information on various practice areas of the law firm as well as details on the legal team. People seeking legal help can contact the practice to set-up an appointment through the website as well.
The sbemp.com has been developed as a user-friendly website. It includes content that is written in simple and easy-to-understand language. But there is no compromise on the quality and accuracy of the information provided on the website.
CreativeTake's team of content developers and website designers has provided an innovative yet simple to use website for the legal practice.
'Our Team' Section on the Website
The website sbemp.com has a comprehensive "Our Team" section that provides relevant and current information about the legal team. New clients can view this section to get a detailed understanding of the lawyers at the practice and their backgrounds.
Prospective clients are usually concerned about the expertise of the legal team and its ability to handle their specific case appropriately. CreativeTake understands that potential clients spend a significant time in evaluating the legal team's credentials before seeking an appointment at the practice.
Therefore, CT Medical's team spends significant time and effort in developing this section. This section provides in-depth information on the credentials and experience of each member of the legal team to inspire confidence in prospective clients.
The information encompasses various aspects such as the educational background, key practice area, and notable engagements of a particular lawyer.
Section on Practice Areas
An important section in sbemp.com is "Practice Areas." This section provides detailed information on the various practice areas at the law firm. Every sub-section also contains easy to access information on the various locations of the law firm's offices as well as contact details to enable new clients to contact an office at a location that is suitable to them.
The information on each practice area is presented succinctly and concisely. Clients can easily locate and get details on the practice area that is most relevant to their needs.
Other Sections
The sbemp.com site also comprises a "News and Announcements" section featuring current media information and details on other significant happenings at the law firm.
The "Contact Us" section offers the addresses and contact numbers of various offices of the law firm as well as a form that potential patients can fill-out to enable a representative of the practice to contact them.
About CreativeTake Medical Palm Desert, California
CreativeTake Medical is a full-service Website Design and Digital Internet Marketing company with decades of combined experience in the medical and e-marketing industries.
We specialize in:
Serving clients nationwide: Palm Springs, Los Angeles, San Diego, San Francisco, California Chicago, Illinois, New York, San Jose, Dallas, Houston, Austin, Texas Miami, Orlando, Tampa, Florida, New Orleans, LA, Atlanta, GA, Salt Lake City, UT, Seattle, WA, Denver, CO, Richmond, VA, Washington DC, Columbus, OH and more.