CreativeTake Medical Launches New Website EKimPlasticSurgery.com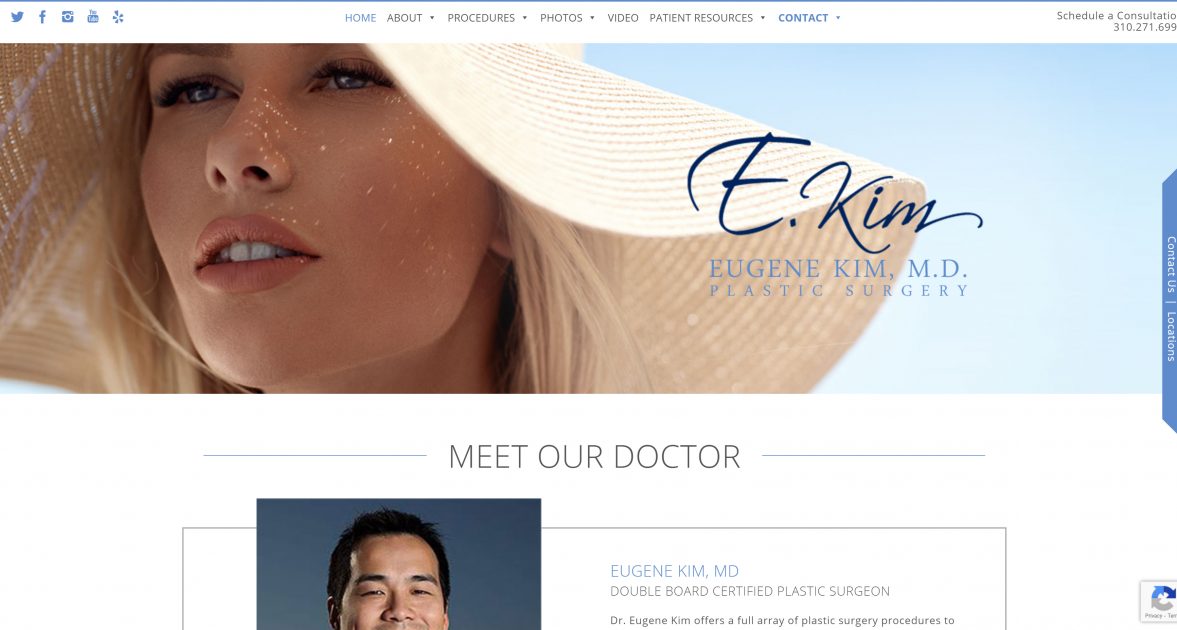 CreativeTakeMedical.com has been working closely with a large number of medical practices to promote them online. One of the latest medical websites designed, developed, and supported by CreativeTake is EKimPlasticSurgery.com. The website belongs to double board certified plastic surgeon Dr. Eugene Kim. Dr. Kim's practice is equipped to provide a full array of cosmetic and plastic surgery procedures to address the aesthetic goals of a patient.
Dr. Kim receives patients from Beverly Hills, Los Angeles and nearby areas. To serve the needs of his patients more effectively and to create awareness about new plastic surgery procedures among a larger number of potential patients, Dr. Kim joined hands with CT Medical to develop a comprehensive website. His goal was not only to promote his practice through the website, but also to disseminate useful information about plastic surgery to a wider audience within his local area.
Educating the Patients
Dr. Kim believes that one of the first duties of a plastic surgeon should be to inform and educate new patients about all aspects of various surgical and non-surgical treatment options. This allows the patients to make an informed choice. Therefore, CreativeTake developed EKimPlasticSurgery.com as an effective online resource of information about a wide range of aesthetic procedures. The website provides focused information about three key areas for the patients, which include the following:
How to choose the most appropriate plastic surgeon?
What kinds of preparations are necessary for a plastic surgery procedure?
How much of recovery period may be involved following the plastic surgery procedure?
Information in these areas constitutes a distinguishing feature of Dr. Kim's website. For new patients, in particular, this information can prove to be highly useful and help them make correct and objective decisions regarding going ahead with a plastic surgery procedure.
Patient-friendly Website
CT Medical evaluated the typical treatment approach of Dr. Kim and realized his focus on developing a personalized relationship with the patient, and engaging with them at every stage of the procedure. Dr. Kim tries to avoid medical terminology as far as possible during his engagement with patients, and will often make use of illustrations to help them better understand how a particular procedure may impact their appearance.
The website development team of CreativeTake followed the same approach to create EKimPlasticSurgery.com. The website is highly patient friendly, and makes use of simple language to explain each procedure in detail. The website design makes the entire site easily navigable, and enables a visitor to quickly identify the specific information they are looking for.
Comprehensive Sections
Dr. Kim's website includes an in-depth section providing information about his education, training, experience, achievements, and engagements. New patients can have a clear idea about the background of Dr. Kim and draw their own comparisons and conclusions. The site includes detailed sections on procedures provided at the practice.
Each procedure for the breast, body, and the face is discussed under a separate web page, with dedicated information to help the patients learn about the procedure and make better informed decisions. The site also includes an Image Gallery, Video Gallery, and Blog to provide more enriched information about various procedures.
About CreativeTake Medical
CreativeTake Medical is a full-service Website Design and Digital Internet Marketing company with decades of combined experience in the medical and e-marketing industries.
We specialize in: