CreativeTake Medical Launches New Website MyBeautifulBody.com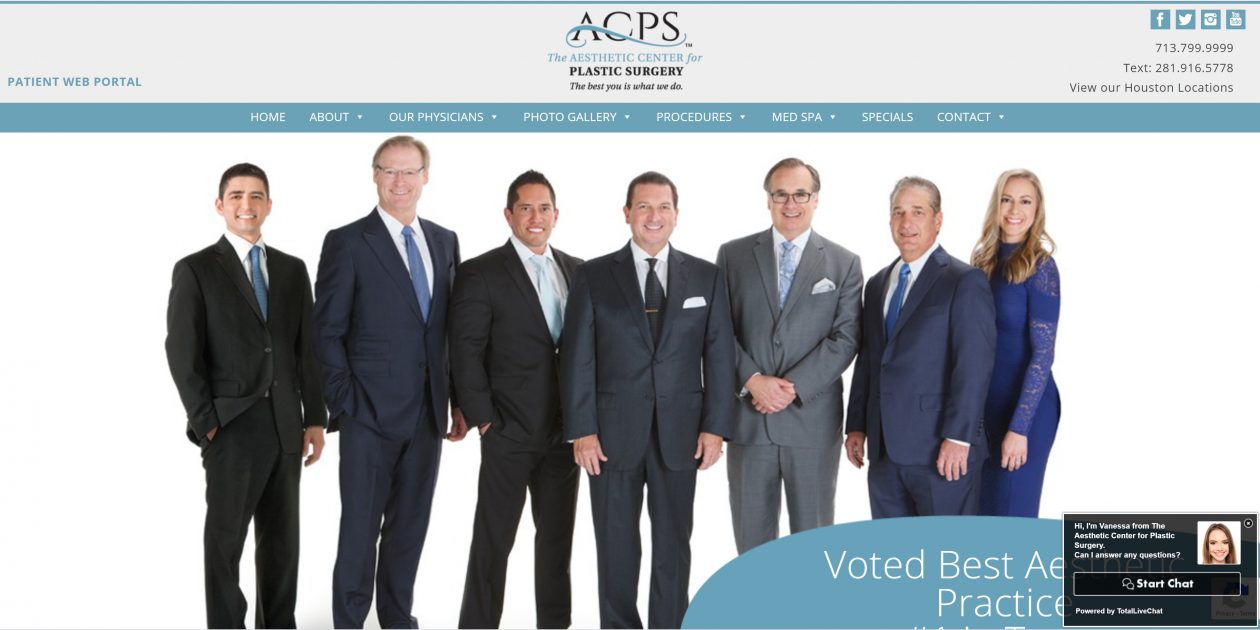 Premier website design, content development, and search engine optimization firm for medical professionals, CreativeTakeMedical.com has launched its latest website for the Aesthetic Center for Plastic Surgery (ACPS) in Texas. The website called MyBeautifulBody.com is an outstanding resource of information on a wide range of surgical and non-surgical aesthetic procedures.
ACPS is one of the largest private plastic surgery practices in Texas and the United States. It is headed by a team of six highly accomplished and reputed plastic and cosmetic surgeons with many years of experience in the field. Therefore, CreativeTake Medical has endeavored to build a distinguished website to match with the highest standards of the award-winning practice.
Highlighting the Achievements
CreativeTake short-listed the unique strengths and achievements of the practice, and decide to highlight them prominently on the home page and other pages. The website informs readers about the distinguishing feature of the practice, which is a private in-house research center of its own.
The practice has earned several awards for the center, and its surgeons have also received consistent recognition from the industry and media for their contributions to plastic surgery. The practice also has its own accredited surgical center. All these facts are highlighted in detail on the website.
Section on the Team of Surgeons
CT Medical decided to create six separate web pages for the team of surgeons, with one page dedicated exclusively to one plastic surgeon at ACPS. Each page includes comprehensive information of the surgeon's education, training, experience, awards and honors, and other achievements.
External links to the individual websites of each of the surgeons are also provided in the section. New patients can access relevant information about the surgeon's background in order to make better informed choices.
Section on Surgical Procedures
ACPS provides a wide range of surgical procedures for the breast, body, face, and skin. Separate sub-sections are provided under each of the categories. New visitors to the site can simply visit the relevant section and access the specific information about a procedure that they are looking for.
One of the differentiating features of the website is that the indicative price range for each procedure is also provided on the website. This has ensured a high level of price information transparency on the site. New patients can evaluate the costs and benefits of each treatment option and will be better equipped to take a decision when they visit the practice for a consultation.
Section on Non-surgical Procedures
One of the key divisions at ACPS is its medical spa called The Added Touch. CreativeTakeMedical.com has taken care to provide in-depth information in separate sub-sections on a variety of non-invasive and minimally invasive procedures available at the med spa. Indicative prices for each of the procedures are also provided in this section.
Other Sections
MyBeautifulBody.com also includes the following informative sections to make the site more reader-friendly:
Travel Arrangements
Safety
Newsletter
Procedure Price List
Financing Options
Photo and Video Gallery
Blog
Contact Us
CT Medical remains committed to regularly upgrading, maintaining, and marketing the ACPS website using innovative and proven SEO and online marketing techniques.
CreativeTakeMedical.com Services
About CreativeTake Medical Palm Desert, California
CreativeTake Medical is a full-service Website Design and Digital Internet Marketing company with decades of combined experience in the medical and e-marketing industries.
We specialize in:
Serving clients nationwide: Palm Springs, Los Angeles, San Diego, San Francisco, California Chicago, Illinois, New York, San Jose, Dallas, Houston, Austin, Texas Miami, Orlando, Tampa, Florida, New Orleans, LA, Atlanta, GA, Salt Lake City, UT, Seattle, WA, Denver, CO, Richmond, VA, Washington DC, Columbus, OH and more.