CreativeTake Launches New Website TribecaMed.com in Miami Beach, FL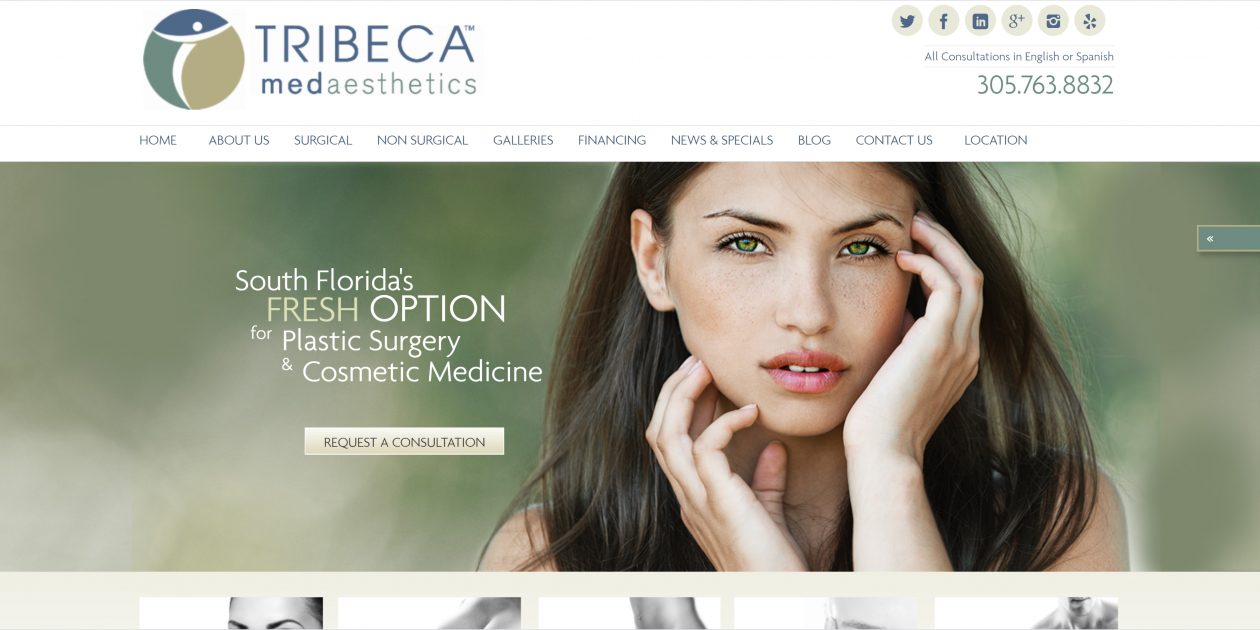 CreativeTake Medical, the company behind some of the most remarkable and successful medical websites in the United States, has launched its latest website for board certified plastic surgeon, Dr. Jeffrey R. LaGrasso and board certified physician, Dr. Jason A. Shapiro. The website TribecaMed.com is designed to serve as the virtual home of Tribeca Medaesthetics, a state of the art plastic surgery practice located in Miami Beach, FL.
Through this website, CreativeTake aimed to create a comprehensive online resource on a variety of surgical as well as non-surgical procedures that Tribeca Medaesthetics provides to its patients for cosmetic enhancement. The field of cosmetic surgery is expanding rapidly with new techniques and technologies being introduced regularly. CreativeTake made sure that accurate and insightful information about various cosmetic procedures that Tribeca offers, was made available through TribecaMed.com.
Professional Design
CreativeTakeMedical.com has an extensive experience of more than 15 years in the area of website design and content creation. With its exclusive focus on developing and marketing websites for healthcare professionals, CT Medical is in a strong position to build and promote highly successful websites that achieve their twin purpose of information dissemination and generating local awareness and interest in the doctor's practice.
The creative team at CT Medical divided TribecaMed.com into clearly demarcated sections so that a new reader can navigate easily through the areas of his or her interest. Many new patients are keen to learn about the background of the doctors before they make up their mind to visit for a consultation. TribecaMed.com devotes an entire section to providing detailed background information about Dr. Shapiro and Dr. LaGrasso as well as their key staff members.
Useful and Engaging Content
Patients wish to learn about various treatment options available to them while they are still considering whether to go for surgical or non-surgical cosmetic treatment. CreativeTake has provided detailed and relevant information about a wide range of cosmetic surgery as well as non-invasive procedures that Tribeca Medaesthetics provides to its patients.
The site also has dedicated sections for a blog and a photo gallery to provide regularly updated information and value added insights about various procedures. An exclusive section on Financing provides clear information about how a patient may be able to finance the procedure conveniently with assistance from Tribeca Medaesthetics. A unique section is devoted to the community activities and involvement of the practice, which amply demonstrates Tribeca's sense of community responsibility and commitment.
Effective SEO
CreativeTakeMedical.com closely understands the importance of search engine optimization (SEO) to promote a website. With its dedicated expertise in the area of medical websites, CT Medical manages to achieve high online visibility, exposure and top search rankings for its doctor clients.
A judicious use of localized keywords on TribecaMed.com and compelling content quality, coupled with a host of search engine optimization strategies in the background make sure that the website achieves its real goal of reaching out to the largest possible local audience in a most effective and convincing manner.
CT Medical is a boutique Internet Marketing and SEO company with a consistent track record of developing highly successful websites for some of the leading practices all over the United States. TribecaMed.com is yet another important milestone for CreativeTake, which has been designed to achieve top rankings for the most searched local keywords on major search engines such as Google and Bing.
About CreativeTake Medical
CreativeTake Medical is a full-service Website Design and Digital Internet Marketing company with decades of combined experience in the medical and e-marketing industries.
We specialize in: