CreativeTake Medical Launches New Website Suncoastskin.com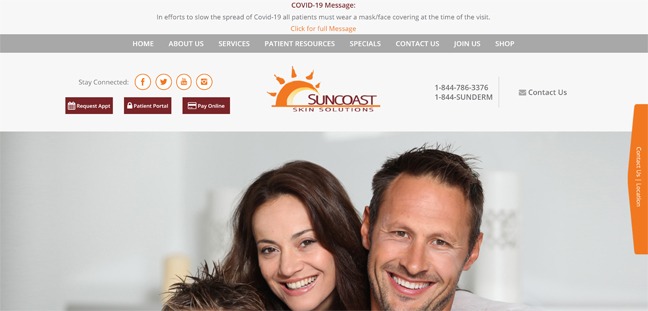 CreativeTake Medical has recently launched a new website, Suncoastskin.com for Dr. Christopher Ewanowski. Dr. Ewanowski is a board certified and fellowship trained skin cancer and laser surgery specialist.
The website has been designed with the objective of serving as a comprehensive resource for information on various dermatological conditions and how these can be treated using surgical, medical, laser, and cosmetic specialization.
Suncoastskin.com is designed to serve as a patient-friendly web portal. It includes content that has been written and presented in simple language without affecting the quality and validity of the medical information. CreativeTake Medical's specialized team of site designers and content developers provide a distinctive look to the site to present Dr. Ewanowski's practice professionally.
"About Us" Section on the Website
Suncoastskin.com contains a detailed "About Us" section that showcases current and relevant details about Dr. Ewanowski and his dermatology practice. New patients are typically concerned to learn about the doctor's qualifications, credentials, accomplishments, and experience.
CreativeTake understands this from experience, and recognizes that new visitors are likely to spend a significant amount of time on the "About Us" section. Patients may arrive at the decision of seeking a consultation with the practice based on how satisfied they are with the doctor's credentials, and the services and facilities that the practice provides.
For this reason, CreativeTake Medical's team invests more time and effort in this section. Dr. Ewanowski's professional credentials have been presented in a concise, clear, and transparent way to assist patients in understanding the dermatologist's background and feel motivated to select him for their skincare needs.
Section on Laser Services
Another vital section on the Suncoast Skin website is the Laser services section. This section provides patients with detailed information on the various types of state-of-the-art lasers available at the practice. Each laser option has in-depth descriptions through individual pages.
These details will enable new patients to identify the particular treatments that they are seeking easily and gather some helpful information regarding the procedure.
Some advanced laser treatments at Suncoast Skin include Smartskin CO2, ICON Palomar Laser, Candela GentleLase, Candela Vbeam, and Coherent Venus Ultrapluse. Patients can gather more information about these procedures through these specific pages. This offers them a basic idea of the procedure for a more effective and useful consultation with Dr. Ewanowski.
Section on Cosmetic Services
The website features a dedicated section on the various cosmetic dermatology services at Suncoast Skin. These services include aesthetician services, Kybella, Botox, brow lift, chemical peels, fillers, and more. Along with the laser section, this section provides comprehensive information on the various cosmetic services offered by Dr. Ewanowski.
The procedures have individual web pages with details about the product, how it works, how it is administered, and information on safety. This helps the patient to quickly identify and review information on the relevant procedure.
Other Sections
CreativeTake Medical has included a gallery that showcases before and after pictures of the various procedures that Dr. Ewanowski performs. New patients can review images on this section to gain a realistic comprehension of the enhancements that they can expect with a specific procedure.
About CreativeTake Medical
CreativeTake Medical is a full-service Website Design and Digital Internet Marketing company with decades of combined experience in the medical and e-marketing industries.
We specialize in: