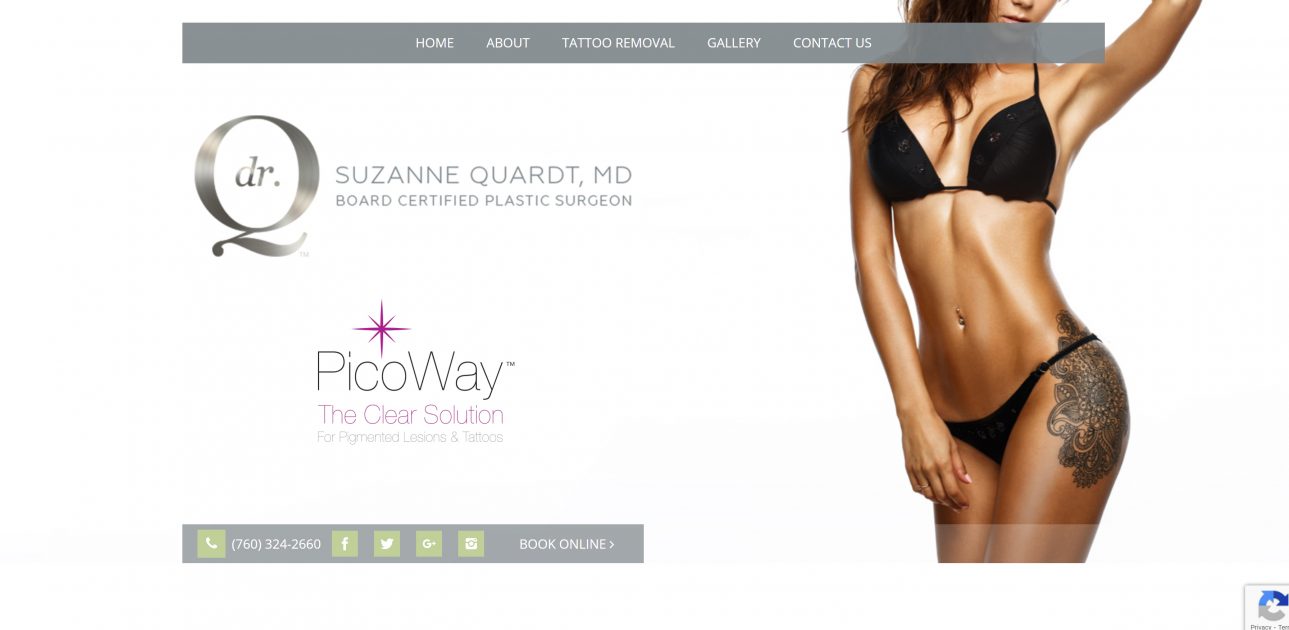 CreativeTakeMedical.com is one of the leading in the world of medical website design, content development and digital marketing for plastic surgeons and other doctors in the US.
Having closely worked with the cosmetic surgery practice as well as the medical spa of Dr. Suzanne Quardt, a board certified plastic surgeon in Rancho Mirage, CA, CreativeTake Medical has now launched a new website TattooRemovalPalmSprings.com for Dr. Q.
A unique thing about this new website is that it is one of the few websites exclusively dedicated to permanent tattoo removal using advanced laser technologies. Dr. Q and her team offer cutting edge non-surgical laser techniques for tattoo removal, and CreativeTake has now showcased this service in the form a comprehensive website.
Home Page
CT Medical website designers have effectively highlighted the latest laser technology called PicoWay Laser on the home page itself. Potential patients and other new visitors to the website are straightaway introduced to this advanced laser technology, which helps in the removal of almost any type and any color of permanent tattoo.
The home page includes a welcome message for the readers, which gives them an idea about Dr. Q's practice. It also prominently includes a call to action, encouraging visitors to get in touch with Dr. Q's office with any questions, concerns or to fix an appointment for permanent tattoo removal with laser.
About Us Section
The "About Us" section of TattooRemovalPalmSprings.com is divided into two categories, including Meet the Staff and Patient Testimonials. Meet the Staff section describes the professional credentials of Dr. Q as well as one of the senior members of her support team.
New patients can learn about Dr. Q's qualifications, experience and accomplishments in order to familiarize themselves with her even before they have met her personally. The sub-section on Patient Testimonials provides glimpses of Dr. Q and her practice through the eyes of her patients who want to share their treatment experience with other patients.
Section on the PicoWay Procedure
Many new patients may be uncertain about how a laser procedure can help to eliminate a permanent tattoo. They may have concerns about how complicated or prolonged the procedure may be, and whether it will leave marks, scars or other side effects. All these concerns are addressed in this section for the new patients.
The working of the PicoWay technique and the principle behind the treatment is explained in a patient-friendly language. CreativeTake content writers have explained the process in adequate detail to provide a fair idea to the readers. Web designers at CreativeTake Medical have also placed a teaser video of the procedure right on the home page.
Other Site Sections
Other website sections in TattooRemovalPalmSprings.com include an Image Gallery and Contact Us page. A detailed sitemap is provided for new visitors who may like to navigate through the entire site using the map. Social media icons are also prominently displayed on the website, which encourage the visitors to connect with Dr. Q's social networks for greater online interaction with her surgical practice as well as medical spa.
About CreativeTake Medical
CreativeTake Medical is a full-service Website Design and Digital Internet Marketing company with decades of combined experience in the medical and e-marketing industries.
We specialize in: