SMS vs. MMS blast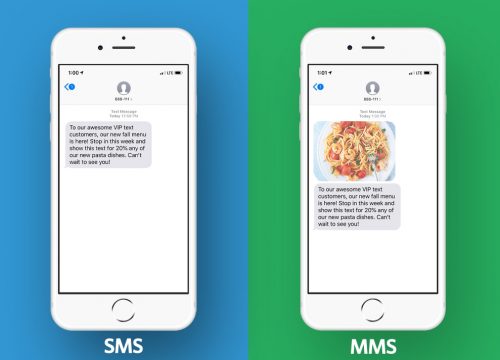 SMS and MMS are the two ways in which we can send text messages. The basic difference between the two is that SMS is for text messages whereas MMS is for messages with a video or an image. Both SMS and MMS blasts are important tools in mobile marketing today.
Many potential clients prefer to read short and quick messages or view short videos. So, your conversion rates can be higher with mobile marketing techniques such as SMS and MMS blasts. Read on to understand more specific details about both these services and a comparison of their merits and disadvantages of both.
About SMS
SMS stands for Short Message Service. In simple language, this means a text message. Several types of message are commonly called as "text" messages; the factor that sets SMS apart is that it can accommodate only 160 characters of text and does not support videos and pictures.
About MMS
MMS is an abbreviation for Multimedia Messaging Service. As the name indicates, it supports communication of multimedia besides text. Videos, audios, pictures, and GIFs can all be sent using MMS. Another way it differs from SMS is that MMS supports up to 1600 characters of text, so you can share a greater amount of content.
How do SMS and MMS Compare to Each Other?
Both SMS and MMS provide an excellent interface for engaging customers but each one has its own merits and disadvantages. One may be better than the other in certain situations and you have to decide which one to use based on your project budget and the outcome you desire from your communication with customers.
Merits of SMS
SMS messages are restricted to 160 characters, so they have to be brief and to the point. This makes it easier for the end user to understand what is being conveyed.
SMS messages are less expensive than MMS messages.
Most US-based carriers offer unlimited texting plans, so subscribers do not incur any cost.
Demerits of SMS
When all you can send is text without any emoji or photo or video, your message cannot be as interesting as an MMS. This can make it difficult to catch customer attention.
The 160 character limit is a problem if you need to send longer messages.
Merits of MMS
MMS messages can grab attention more effectively. They accommodate videos and pictures which definitely hold a greater appeal for the receiver.
With a character limit of 1600, MMS allows the sharing of even large text messages.
Demerits of MMS
MMS messages cost much more than SMS messages. If, like most businesses you are budget-driven, you cannot afford to spend more on messaging, so this may limit the number of messages you send.
MMS messages cannot reach those persons who do not have smartphones or those whose cellular plans do not provide access to MMS.
You will incur additional expenses to create the videos or images or graphics that you want to include in the message.
Choose an experienced digital marketing agency that can include mobile marketing along with website promotion and SEO to deliver the best outcomes for your campaign.
About CreativeTake Medical
CreativeTake Medical is a full-service Website Design and Digital Internet Marketing company with decades of combined experience in the medical and e-marketing industries.
We specialize in: