Rank on Page One of Google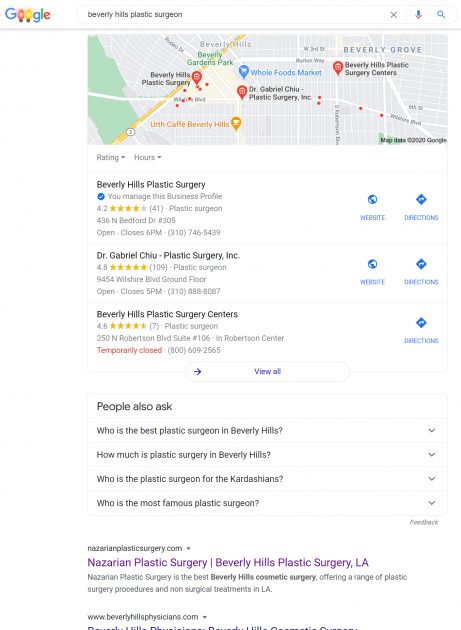 One of the frontline goals of any medical marketing campaign is to achieve search rankings on Google's first page for the largest number of relevant keywords. Research studies have shown that not more than 10 percent of search users will go beyond the first page. Therefore, optimal online exposure is possible only when a professional SEO strategy is in place to ensure top rankings for a doctor's website.
CreativeTake Medical is a leading online marketing, website design and search engine optimization company exclusively dedicated to working for healthcare professionals across the United States. CT Medical's expert SEO and content development teams make that every doctor client's website achieves high online visibility and search rankings on Google page one for most of the targeted, localized keywords that potential patients may be looking for.
Key Areas for Page One Listing
To achieve maximum mileage from page one search results, the medical marketing team should aim at getting the following key areas listed in the search results:
Website
The first thing that an existing or potential patient would like to check out is the doctor's website to get a quick idea about the practice.
About Us
This section will typically include the doctor's professional bio, including their qualifications, experience, specializations, and achievements and honors.
Blog or Articles
If the doctor or others from their team have published articles or columns on other websites, or the practice has a dedicated blog, it should ideally show up in the results.
Social Presence
The doctor's LinkedIn Profile and Facebook or Twitter account should show up on Google page one. If the practice has its own social media accounts, these should also be visible.
Strategies to Achieve Page One Rankings
Doctors should consider the following online strategies to achieve top search rankings on Google:
Create a Unique Blog
Powerful, original, and highly relevant blog posts that address the search users' common queries succinctly will typically get ranked high in search results. The blog should be dynamic, regular updated, and should include enriched content with images, videos, infographics, and slide shares.
Share Content Online
Whenever the doctor or their team creates a new article, infographic, video, webinar, column or blog, it should be shared online through Google+ connections and social media networks. Compelling content will usually receive wide exposure, and search engine crawlers will identify such content more effectively for higher rankings in search results.
Avoid Negative SEO
Negative SEO impact can arise if the doctor builds a low quality website with weak content. It is critical avoid content duplication, copied, irrelevant or outdated content, and spamming. Keyword stuffing is another common mistake. SEO tags should be created appropriately for every web page, which correctly summarize the page content and include useful keywords.
Build Online Reputation
The doctor can build a strong online reputation by achieving positive comments, testimonials, and feedback on other websites, forums, blogs, and social media. Listings on specialized healthcare review and rating websites can also support this process. It can eventually help the doctor's practice rank on Google page one in the search results.
About CreativeTake Medical
CreativeTake Medical is a full-service Website Design and Digital Internet Marketing company with decades of combined experience in the medical and e-marketing industries.
We specialize in: