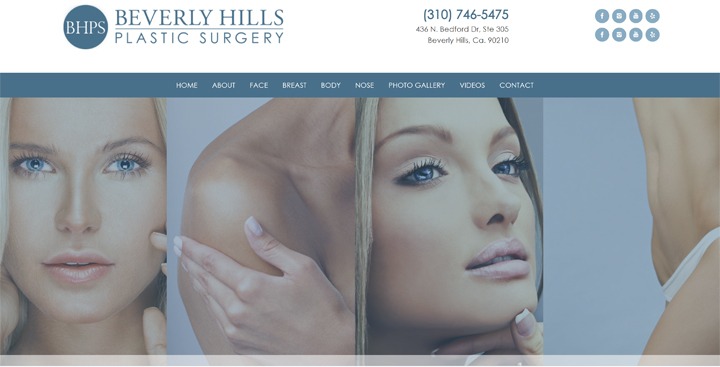 The popularity of plastic surgery procedures have led to the emergence of many competent cosmetic and plastic surgery practices across the country.
The competition has increased, and today even the oldest or the best practices are also required to professionally promote their services over the Internet. Digital marketing is the most affordable and effective way to reach out to targeted audiences in a local area.
This is where CreativeTakeMedical.com is helping transform the business of a large number plastic surgery practices in the US. CreativeTake Medical website design and SEO experts work with a goal to create plastic surgery websites that inform and educate the patients in a comprehensive manner, and at the same time, meet the challenge of achieving top search rankings for localized keywords on search engines such as Google and Bing.
CT Medical is today a recognized leader in the field of online marketing for medical professionals. CreativeTake is closely working with numerous cosmetic surgery and other practices to improve their digital footprint and build a strong online reputation.
Home Page
CreativeTake has now launched a new website BeverlyHillsPlasticSurgery.com, which is a prominent practice catering to the needs of patients in and around Beverly Hills and Los Angeles. The website designers at CT Medical have designed an elegant website, which makes liberal use of images and soft colors to present a pleasing site experience for potential patients.
The home page provides a well-defined horizontal menu of all the major sections of the website. New visitors can easily navigate through various web pages, quickly identify the information they are looking for, and feel encouraged to spend more time on the site and improve their familiarity with Beverly Hills Plastic Surgery practice.
The home page briefly describes about the overall environment and beauty of the Beverly Hills area where the practice is located. It then goes on to talk about the professional plastic surgery practice that is led by two eminent plastic surgeons in the field.
Website Sections
BeverlyHillsPlasticSurgery.com includes an "About Us" section, which separately includes sub-sections about its two plastic surgeons, Dr. David Kim and Dr. Eugene Kim. Both surgeons are board certified by the prestigious American Board of Plastic Surgery – a fact that is importantly emphasized in the website. The sections provide their professional credentials so that new patients can learn about the surgeon's background and gain more confidence about the practice.
Beverly Hills Plastic Surgery offers a comprehensive menu of surgical and non-surgical procedures. CreativeTake Medical has provided in-depth information about each procedure performed at the practice. Separate sections are created for procedures related to the body, face, breast, and nose.
Further sub-sections about various procedures include exclusive web pages on breast augmentation, breast lift, breast reduction, liposuction, tummy tuck, facelift, otoplasty, eyelid surgery, facial fat transfer, brow lift, Botox, dermal fillers, and CoolSculpting. An entire separate section is dedicated to nose surgery or rhinoplasty.
The fantastic and cutting edge CT Medical has also provided separate sections on BeverlyHillsPlasticSurgery.com for Contact Us, Photo Gallery, Videos, FAQ, Specials, Financing, and Blog.
About CreativeTake Medical
CreativeTake Medical is a full-service Website Design and Digital Internet Marketing company with decades of combined experience in the medical and e-marketing industries.
We specialize in: