CreativeTake Medical Launches New Website PlasticSurgeryWashingtonDC.com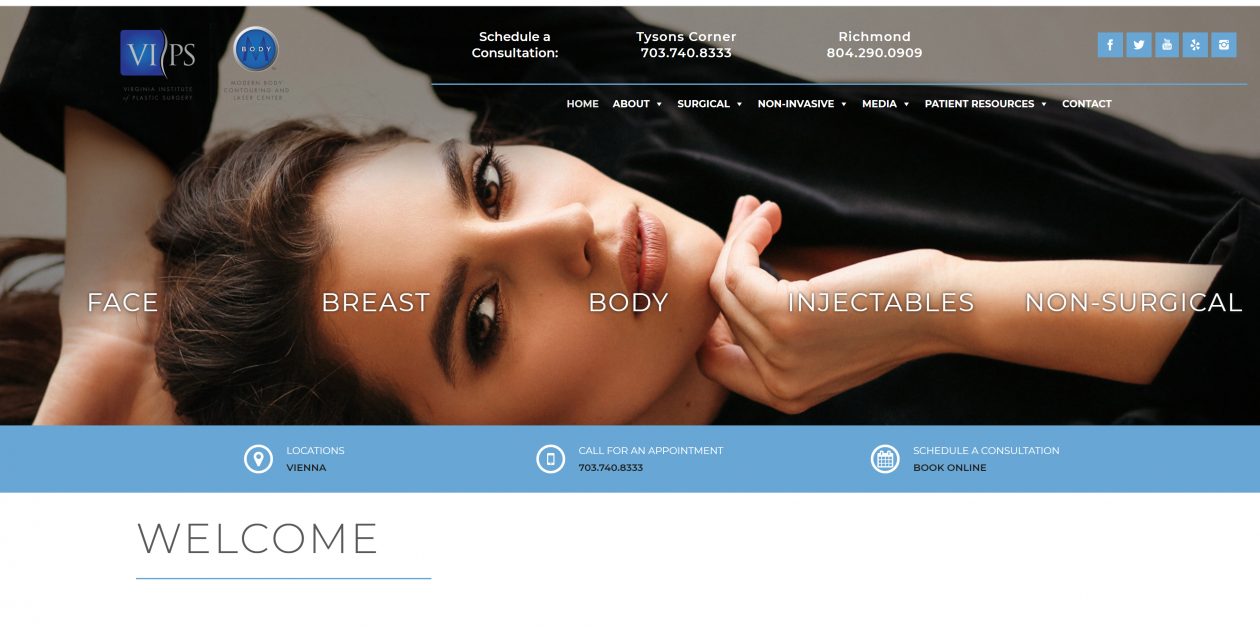 CreativeTake Medical has recently launched a new website plasticsurgerywashingtondc.com for board certified surgeons Dr. Burton Sundin, M.D., and Dr. Reps Sundin, M.D., who specialize in the cosmetic surgery of the face, body, and breasts.
The website has been developed with the twin objectives of serving as a comprehensive online resource for various innovative treatments for the enhancement of the face and body as well as promoting the services offered by Virginia Institute of Plastic Surgery (VIPS).
Plasticsurgerywashingtondc.com has been created as a patient-friendly website and includes content that is written in easy to understand language but without any compromise on the accuracy or quality of the information.
CTM's team of website designers has provided the website with a unique look that showcases VIPS in a professional manner.
'About Us' Section on the Website
Plasticsurgerywashingtondc.com includes a comprehensive "About Us" section containing relevant information about Dr. Burton Sundin and Dr. Reps Sundin as well as the aestheticians at the practice. New patients are usually concerned about the credentials and background of the doctors and the facilities and services that the practice is equipped to provide.
Creative Take Medical knows from experience that new visitors spend more time on this section and usually decide on seeking an appointment with the practice on the basis of how they feel about the doctor's background and the facilities that the practice offers.
For this reason, CTM's site development team invests a significant amount of time and attention in this section. The credentials of both the doctors have been presented in a clear, transparent, and comprehensive manner to help new patients achieve familiarity with the plastic surgeons and feel encouraged to seek a consultation.
Procedure Section
CreativeTake Medical understands from experience that most new visitors to a cosmetic surgery website usually want to understand more about the particular procedure that they may be considering.
Plasticsurgerywashingtondc.com provides in-depth and accurate information on various procedures to facilitate this search for new visitors to the site. The procedures section is segregated on the basis of Body, Breast, Face, Laser, and Hair to make it easier for site visitors to locate the treatment of their interest.
Patients can conveniently identify and review details about the relevant procedure, which will enable them to be better prepared for their consultation with the plastic surgeon.
Other Sections of the Website
Plasticsurgerywashingtondc.com includes a dedicated "Photo & Videos" section, which includes before and after images of procedures that Dr. Burton Sundin and Dr. Reps Sundin perform.
New patients can review this section and achieve a realistic comprehension of the type of improvements that they can expect with a specific cosmetic surgery or non-invasive procedure.
There is a separate section on Testimonials that offer new patients a perspective on the practice from the point-of-view of previous patients. CTM website development and content creation specialist showcase the importance of Patient Testimonials.
These testimonials can serve as one of the most compelling and convincing endorsements of a plastic surgery practice as they provide insights on the practice from the perspective of other patients.
About CreativeTake Medical Palm Desert, California
CreativeTake Medical is a full-service Website Design and Digital Internet Marketing company with decades of combined experience in the medical and e-marketing industries.
We specialize in:
Serving clients nationwide: Palm Springs, Los Angeles, San Diego, San Francisco, California Chicago, Illinois, New York, San Jose, Dallas, Houston, Austin, Texas Miami, Orlando, Tampa, Florida, New Orleans, LA, Atlanta, GA, Salt Lake City, UT, Seattle, WA, Denver, CO, Richmond, VA, Washington DC, Columbus, OH and more.