CreativeTake Medical Launches New Website SungateInsurance.com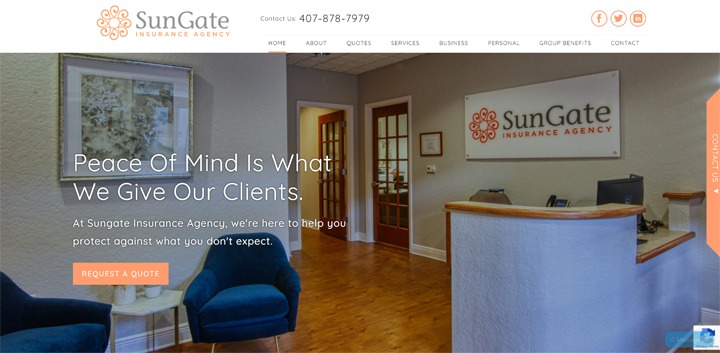 CreativeTake Medical has been a leader in the pursuit of online marketing excellence for insurance providers across the US for over two decades. They have helped hundreds of financial and insurance agencies and firms accomplish their business goals and objectives.
CT Medical recently launched a new website for SunGate Insurance Agency, which is located in Lake Mary, Florida. SunGate Insurance is dedicated to offering personalized client service and this dedication now comes across their easy-to-navigate, responsive, and informative website.
Website for SunGate Insurance Agency
SunGate Insurance are large enough to offer diversified insurance coverage for all types of needs. However, they are still small enough to offer personalized solutions and individual attention that is non-existent with large-sized insurance firms. CT Medical understood the needs of this insurance firm before creating a website that bespoke of their business objectives.
SungateInsurance.com is warm and inviting. The language and terminology on the site is consciously kept simple so that everyone can understand things easily. A challenge with most diverse insurance providers is to categorize everything so that there is no room left for confusion. CTM achieved this by creating individual webpages on the site specifically focused on the various types of insurances on the menu: Business, Personal, and Group Benefits.
They even created a separate "Services" tab to make it easy for current customers to take care of routine tasks. For instance, clients can make a payment, report a claim, update contact information, request policy information or take out complimentary insurance right from the site. This allows SunGate Insurance to free up resources otherwise tied down in dealing with customers on the phone or other modes.
In-depth Understanding of Various Services
CT Medical understands from two decades of experience that most visitors to an insurance website are shopping around. They have probably looked at dozens of other sites and are hoping to close a deal. This is why the core of CTM's online promotion strategies involves development and design of search engine optimized and keyword-rich site.
At the same time, SungateInsurance.com offers precise, informative, relevant, and in-depth information about different insurance types in a client friendly language. This makes it easy for clients to review the information and make the best decision for them.
Call-to-action Buttons
In the insurance business, it is imperative to not lose even a single lead. This is why CreativeTake Medical added several non-interfering CTA buttons throughout the content. Site visitors feel taken cared of from the first page. Things only get better as they move to the services page where each insurance type is explained in detail.
CT Medical has included a "contact us" page for potential customers to know where SunGate Insurance is located and how they can get in touch with them.
CreativeTake Medical has decades of experience in the area of online marketing. Our innovative web design, content, and search engine marketing teams continue to deliver outstanding work for our clients and help them achieve their business goals. We aspire to attain top search engine rankings for every web page in a client's website, and maintain those rankings over time.
About CreativeTake Medical
CreativeTake Medical is a full-service Website Design and Digital Internet Marketing company with decades of combined experience in the medical and e-marketing industries.
We specialize in: